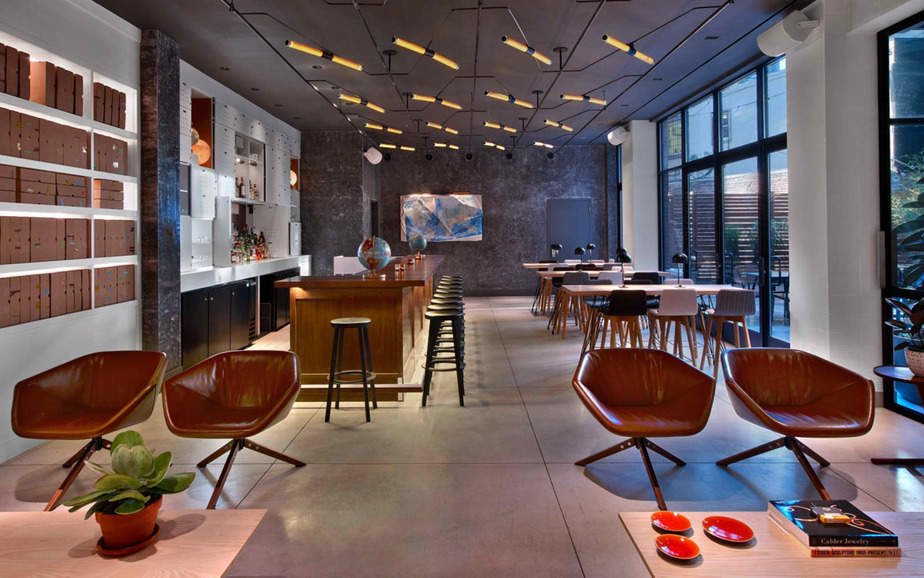 Since opening its doors in September 2016, Arlo in SoHo, New York City, has been taking Manhattan's hotel scene by storm. In a bustling city where space is always at a premium, Arlo offers the micro-boutique concept, which aims to create a stylish, efficient hotel experience in a smaller-than-average space without any reduction in service or personality.
With a plethora of awards to its name, Arlo ensures all the essentials of a hotel are presented stylishly, offering great value as well as an inspiring alternative to budget chain accommodation. With design and community at its heart, Arlo understands the importance of collaboration and works with a whole host of local and international brands in order to deliver a truly unique experience to its guests. From the custom-designed bicycles by Hudson Street's Priority Bicycles which guests can borrow free of charge, to Tone House who have contributed to creating the hotel's award-winning health and fitness schedule, Arlo has created a contemporary approach to hotel design without losing those elements which are most importan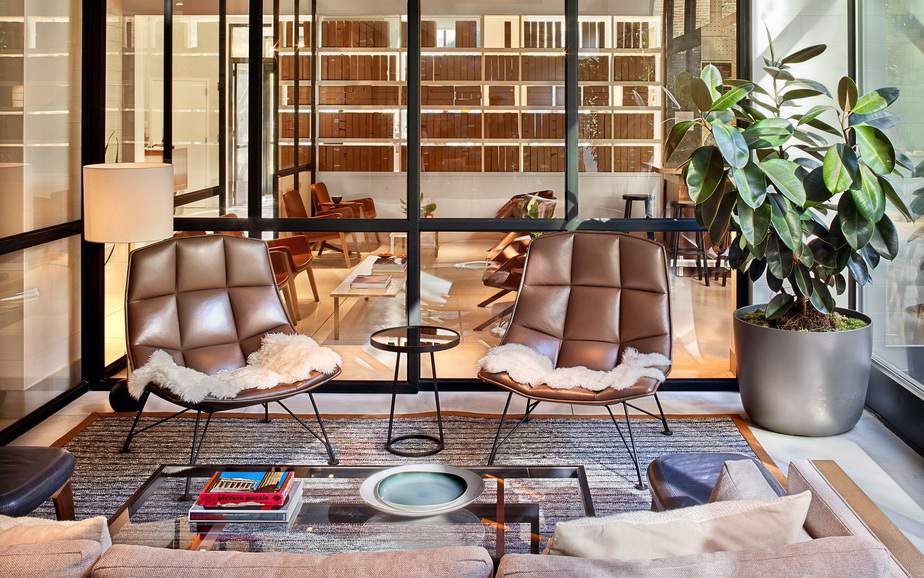 Location
Arlo is situated in the heart of New York City's SoHo, a locale that has gone from industrial printing district to one of the city's coolest areas. Packed with stylish independent gallery lofts, upmarket shops and cafes, this lower Manhattan destination is popular with tourists and local New Yorkers alike
As well as a host of designer and chain stores, SoHo (standing for South of Houston Street) is famed for its unusual architecture. Showcasing one of the largest collections of cast iron architecture in the world, SoHo is now a preservation area and draws crowds wishing to see these striking building facades. The advent of the use of cast iron in building work in the late 19th century meant that existing buildings could be given ornate fronts cheaply and more quickly than if they had been forged from hard stone and made the buildings more appealing to a more affluent clientele.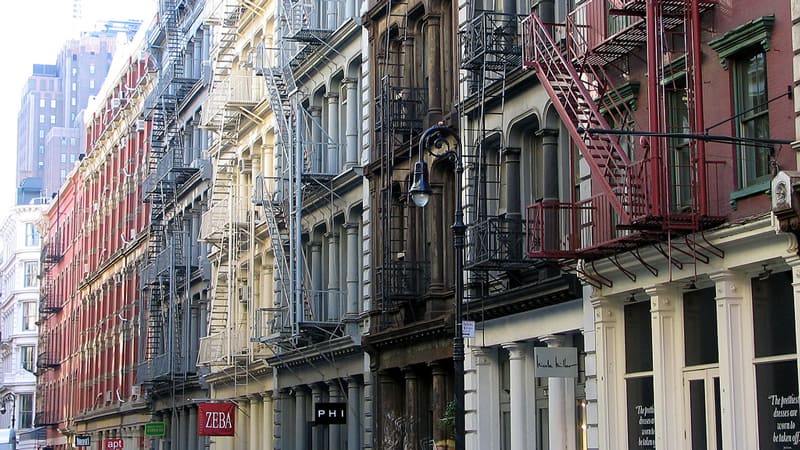 Architecture
Designed Gene Kaufman Architect PC, Arlo has been created to assimilate into the historic industrial buildings around it. "Our goal for each of these hotels was to create a look that reflected the neighbourhood in which it resides," said Gene Kaufman. "In Hudson Square, we've used aged brick to emulate the appearance of the area's historic industrial buildings"
At Arlo, the outside space is just as important as the interiors with the roof top and courtyard playing crucial roles in the hotel's design and ethos. From morning yoga on the roof to enjoying a glass of wine under the stars, these spaces have been carefully created to flow seamlessly with the rest of the hotel.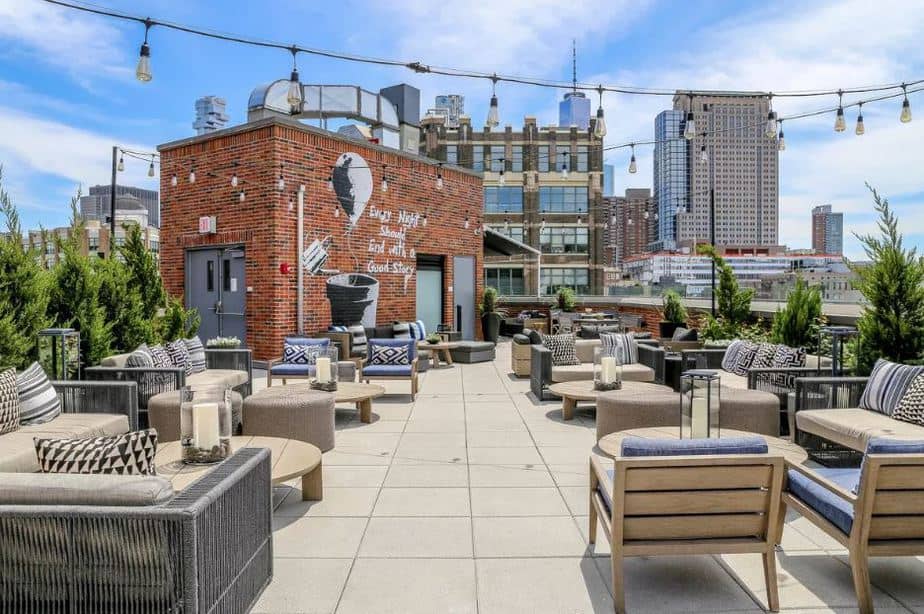 Interiors
Designed by design and concept firm AvroKO, a company known for innovation and an ability to create hotel spaces that resonate with guests, Arlo draws on the needs of the millennial traveller as well as a number of important hotel design trends.
In an interview with Architectural Digest, Matt Goodrich, AvroKO's Chief Creative Officer, said, "The design reflects a sense of refinement and considered simplicity. The idea is to provide travellers with an ideal home base that gives them exactly what they need in order to be comfortable and efficient while encouraging interaction with other guests and members of the community."
Public spaces are crucial to Arlo's design with a number of communal areas on offer for guests looking to work, rest or play outside of the smaller bedrooms. These communal areas tap into the millennial traveller's work style, offering plenty of spaces in which to work solo or hold meetings but are flexible enough to serve as entertainment spaces too. For example, the stylish library, which combines luxurious Mid Century inspired walnut furnishings with hide rugs, provides the perfect place to work while the extensive vinyl collection, showcased on the room's chic shelving, allows guests to play DJ on the room's turntable.
While the overall feel of Arlo's interiors is one of sleek modernity, a sense of playfulness is introduced through stylish finishing touches. Indeed, attention to detail is crucial to the overall design concept at Arlo with flourishes such as the books arranged by colour in the first-floor Studio space to the noticeboard that encourages guests to leave tips for other travellers.
Arlo's lobby, like many modern hotel lobbies, has done away with the traditional reception desk in favour of a more stream-lined check-in experience that puts the guest in the driving seat.
Custom-made furniture, warm dark wood and leather upholstery all combine in this space to create a look that is both inviting and contemporary, working perfectly for any of the communal area's many uses.
Rooms & Suites
With 325 rooms and suites on offer over 11 floors, guests at the Arlo can choose from a number of different micro room types including bunk rooms, courtyard kings and even a city queen terrace which has its own private furnished outdoor space.
A 2015 report by CNBC claimed that the average hotel room in New York City is 330 square feet, meaning that the standard rooms at the Arlo are around half this size. However, is spite of their smaller stature, there is no scrimping on design credentials with the luxuriously comfortable beds, walnut furniture and thick woollen rugs completing the style of the rooms.
Smart storage is a crucial part of the rooms' design concept with furnishings and layouts working hard to provide guests with everything they need in a smaller space. From the foldaway desks to the Jefferson alcove beds, every detail has been considered to ensure an experience guests will remember for the right reasons.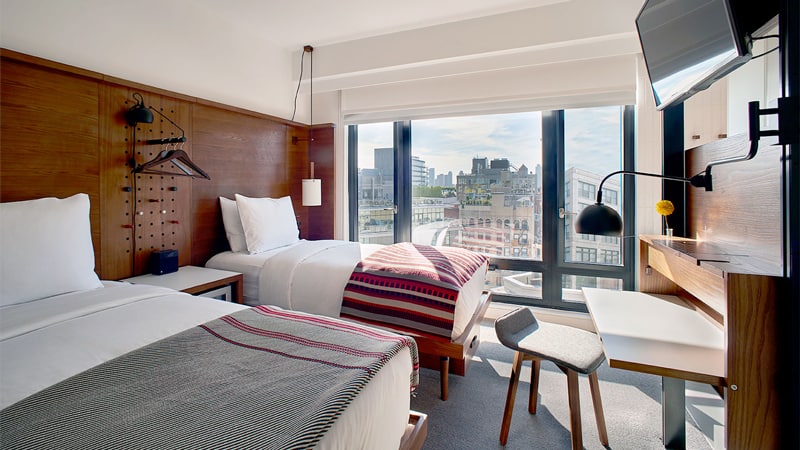 Food & Drink
In order to cater for the busy, fast-paced schedules of Arlo's guests, there is a range of flexible dining and drinking options available. Putting a twist on the classic 'meat and three' dining style in which diners choose one meat from a list of options and three side dishes, Chef Harold Moore brings a touch of Southern flavour to the Arlo. From fried chicken in honey hot sauce to ham steak served with red gravy, guests can build a meal that works for them by adding side orders that range from fresh cucumber salads to creamy potato mousseline. In addition to the meat and three menus, guests can choose from the a la carte option that boasts hearty dishes inspired by locations across the globe from Israel to Italy.
If liquid lunches are on the menu, the Arlo Liquor Bar prides itself on its wide range of drinks options that has been carefully tailored to suit all palates. Whether you opt for a cocktail or a sommelier select wine, where you enjoy your drinks at the Arlo is really up to you. From the elegant library to the shady outdoor courtyard, guests are invited to find a spot that works for them. To soak up as much of NYC as possible, the ART (Arlo rooftop) bar provides not only cocktails and craft beers, but breathtaking views over the Hudson River and the city beyond.
For those who are in need of sustenance in the wee small hours, Arlo's on-site bodega offers a range of snacks including gourmet sandwiches, coffee and designer chocolates.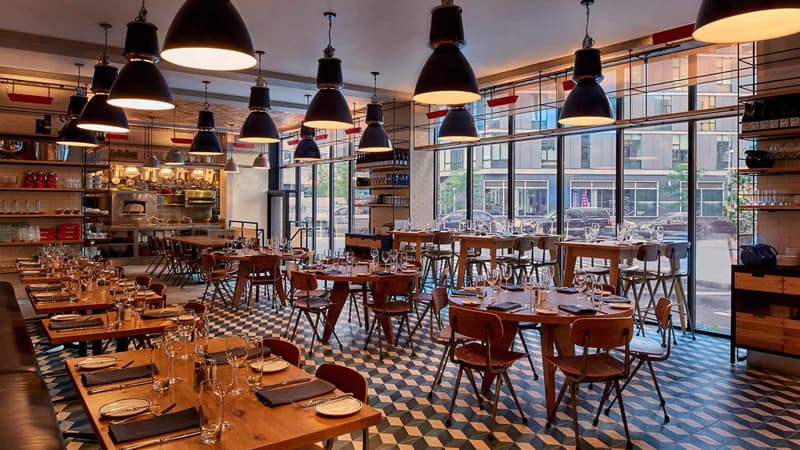 Arlo Soho Website: www.arlohotels.com