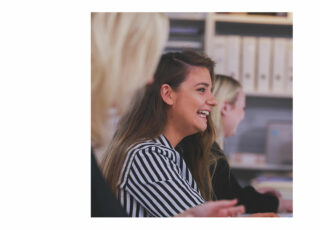 We love watching people develop in their roles, challenging themselves to continually learn & grow... combine this approach with passion & initiative and you can achieve anything.

Kate Mooney OCCA Founder
Our Core Values
Dare to Disrupt

Make a difference and challenge the status quo everyday. This is not disruption for the sake of disruption, this is positive disruption that powers us to continually grow & evolve in our industry.

We not I

We are Team OCCA. We are collaborating partners. We work together with each other, our clients, our suppliers & our wider design teams - because we know that together we can achieve so much more.

Do the right thing

Our integrity is integral to our business. It is something that we won't compromise. Difficult choices often have an easy or a hard answer. We pick the right one.

Challenge Accepted

We are a dynamic team of positive, proactive problem solvers. No challenge is too big. For us it's always yes first and how second. Grab the opportunity to exceed expectations.
Working At Occa
At Occa we empower our team to be collaborative, creative, curious and continually learning. We encourage a spirit of entrepreneurialism and innovation in the studio and are passionate about creating an environment that provides opportunities for personal growth & development.
As a small but growing business, we're always on the lookout for ambitious people with shared principles and diverse talents to join the team. If this sounds like you, we'd love to hear from you.
LOVE WHAT YOU DO Benefits
Great Location
Our studio is situated in the heart of the city, within one block of Glasgow Central Station and we are currently working on a hybrid model with 2-3 days in the office and the balance at home.
Competitive Salary
We reward great work with great salaries - and bonuses. When you go the extra mile and make a difference, we recognise it.
Personal Development
We encourage continual learning and personal development and will support you in any training, development and charitable work you want to do.
Make a Difference
OCCA is a small but growing studio where your contribution will matter and you can make a positive difference to our projects and the business.
Holidays & Flexitime
At OCCA you'll receive 28 days statutory holiday plus your Birthday and Christmas Eve as paid leave. We also offer flexible working patterns.
Welcoming & Friendly
We're a sociable bunch at OCCA, and while we work hard, we're not shy of enjoying some great Team days & nights out too.
The Faces Behind it All Some of Our Team
Can't see the role for you?
Send us your CV and a cover letter, and we'll take a look
Apply Now