Commercial & Workplace Services What we do
Commercial Interiors
Whether you're a start-up, established SME or large corporate, bootstrapping or on a big budget, our commercial architectural & interior design team will work with you to discover the optimum design and character for your new workplace or refurbishment.
Office Furniture
Leveraging our purchasing power across multiple sectors, brands, projects and office furniture specialists, we specify, procure and install all your workplace furniture & lighting requirements, delivering a turnkey solution designed to bring best value to your project.
Covid-19 Consultancy
Navigating office design in light of the pandemic is a challenge for all workplaces. With a focus on health and wellbeing and an eye to a more resilient future, our team will guide you through the new normal, creating bespoke solutions that work for your business.
Occa Procurement Our Workplace Brands
Design Services Commercial Interiors
We believe that great design means great business. Working with large corporates to fledgling start-ups, we design and deliver innovative, multi-functional & connected workplace interiors that fuse seamlessly with your business objectives.
Balancing interiors, culture, ergonomics and technology with your organisational aspirations, our designers introduce research as a design precursor, digging deep to get to know your company, team, vision & values.
We will then guide you through every step of the design process from concept to handover, delivering work packages, 3D visualisations and detailed furniture schedules that ensure your project delivers for you, your business and your teams.
Find out more about our interior design services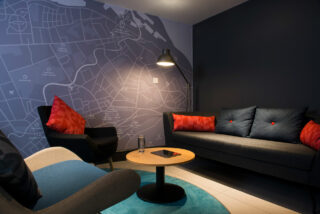 FF&E Procurement Office Furniture
Purchasing office furniture can be a minefield, however our procurement team will leverage our global network of office furniture suppliers to arrange showroom visits, provide furniture samples, VE options and transparent costing designed to simplify the process, maximise your budget and bring best value to your project.
With cloud-based scheduling & reporting systems, we co-ordinate and provide full visibility of all your office furniture orders and deliveries in real time. Working with our extensive network of couriers, carriers and installations teams, we will organise all storage and disposal audits, along with all order admin, transport and logistics activities, ensuring that your transformational new office interior is delivered on time, on budget, with no surprises.
Find out more about our procurement services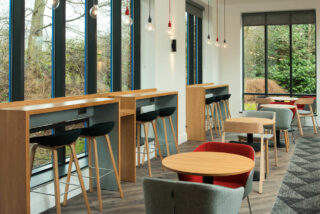 Covid 19 Office Consultancy
Looking to transform your current workplace in light of the pandemic or create an inspirational new workplace for your team?
Our Workplace Consultancy service will bring you the latest thinking and advice in relation to health & safety in the workplace, guidance on redesigning and repurposing your space and advice on helping you to respond positively & proactively to the crisis.
From organising disposals and recycling to re-designing, procuring and installing all your workplace furniture and lighting – at home or in the office – we will leverage our network and purchasing power across multiple sectors to deliver the optimum solution for your organisation.