hotel services What we do
Our hotel clients
We're thrilled to have worked with so many of the world's best known hotel groups including InterContinental, Wyndham, Marriott, Hilton, Accor, Choice, transforming hotel brands and guest experiences thoughout the UK and around the world.
Design Services Hotel Interior Design
Bringing our years of experience in international hotel design projects to the table, we work collaboratively with hoteliers and developers to bring their properties to life.
Our portfolio is a vast mix of hospitality projects, from pioneering select service concepts, to soft brands, full brands, luxury hotel properties and independent boutique hotels.
We fully understand the commercial realities of your hotel operation. By leveraging our extensive hotel design experience and applying our unique commercial understanding, we know how to deliver creative, high-performing solutions for all your hospitality projects.
Find out more about our interior design services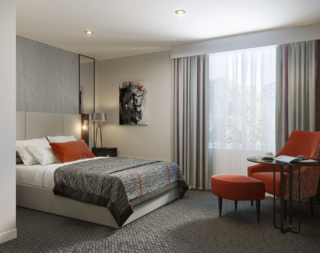 FF&E Procurement Hotel Procurement
Leveraging our hotel and hospitality purchasing power across multiple brands, properties and countries, we will manage the end to end FF&E procurement process from design reviews, to delivery and installation on site.
Our project accounts team will monitor every aspect of your job and share our scheduling and financial reports with you on a real time basis, while our delivery and logistics partners ensure everything arrives on site on time.
Our experienced installation team work collaboratively with the casegood manufacturers, shopfitters and main contractors mobilising deliveries and setting everything in place ready for stress free handover and opening day.
Find out more about our procurement services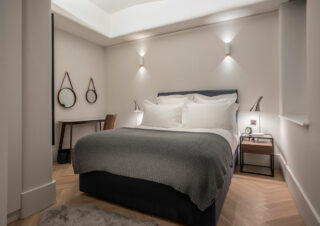 Branding Hotel Branding
Working with many global hotel brands across multiple generations of their branded concepts, we've been at the heart of hotel design, branding and development for over two decades.
In a crowded, ultra-competitive world, we will work with you to define your guest profile, your distinctive service proposition and the design intent that will make you hotel brand stand out from the crowd, while driving a consistently high level of guest connectivity & loyalty.
Once we've developed the brand guidelines, standards and marks that reinforce your concept and values, we'll work with you to determine the optimum FF&E & OS&E products and budgets that deliver your anticipated ROI from the property, taking this through to delivering beautifully detailed prototype packages.