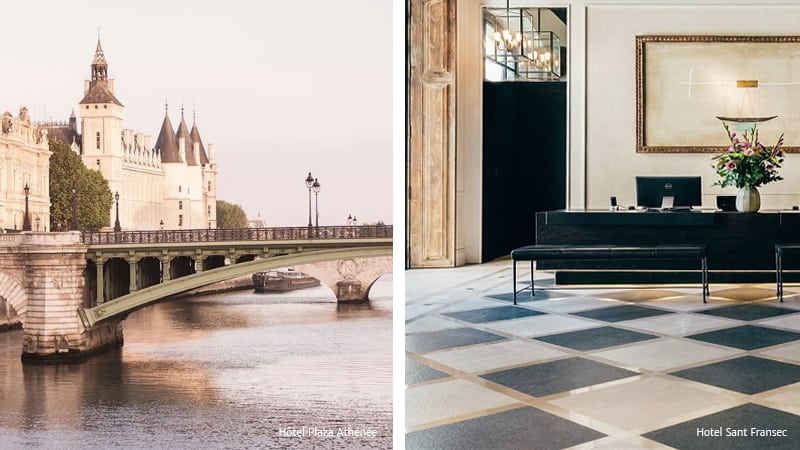 Stuck for ideas for your next hotel refurb? Looking for some stylish hotels and design ideas for your new build project? At Occa HQ we find that there's nothing quite like a little bit of Instagramming to satisfy our curiosity and power up our imagination.
From the insanely cool to beautifully elegant, to laid-back and luxurious, we've curated our take on the 21 Most Stylish Hotels on Instagram that are full of inspiration and great design – maybe it's time your feed [and hotel!] got an update?
1. Hotel Sant Francesc, Palma
The Hotel Sant Francesc is quite possibly the most elegant and stylish boutique hotel in Palma, with achingly chic, contemporary interiors, this Small Luxury Hotel of the World is housed in an immaculately restored 19th century mansion complete with a stunning rooftop pool.
2. Hôtel Plaza Athénée, Paris
Located on the prestigious Avenue Montaigne, the avenue of haute couture, stylish hotels don't get much better than the Hôtel Plaza Athénée, an inspiring hotel with rich, classical interiors. Home to the Dior Institute and a beautifully designed three Michelin star Alain Ducasse restaurant, this hotel oozes elegance & luxury.
3. The Edition, London
What this Instagram feeds lacks in interiors, it makes up for in guest experiences. The stylish hotel to be seen in in London, The Edition London  is a luxury hotel with a difference. Created by Ian Schrager, the design of the timber-panelled bedrooms is influenced by the style of a private yacht.
4. 1 Hotels, Brooklyn Bridge, New York
With stunning views over East River, Brooklyn Bridge is one of the newest stylish hotels in the 1 Hotels Group. The artfully sustainable interiors are influenced by the beauty of nature and safeguarding the environment. An eclectic mix of finishes and furniture creates a stylish & welcoming experience.
5. Grace Hotel, Santorini
Perched above the world-famous Caldera, the serene all-white minimalist style of the interiors of the Grace Hotel Santorini  create a refreshing, restrained & modernist ambience that is the perfect foil for the breathtaking location, expansive sea views and sumptuous sunsets that the hotel boasts.
View this post on Instagram
6. Hotel Sanders, Copenhagen
Located in the historic Tordenskjoldsgade area of the city, two striking townhouses embrace the carefully curated interiors of the Sanders, one of Copenhagen's most stylish hotels, designed to emulate the essence of the theatre, from the dramatic red curtains in the bar to the timeless furnishings that give way to a simple and cool elegance.
7. Four Seasons, Tokyo
Set in the scenic district of the Temples The Four Seasons is a contemporary Japanese interior with an 800-year-old pond garden at its heart. Local materials including  washi-paper lamps, fusuma screens and urushi lacquerware come together to create a refined modern aesthetic
8. Sir Albert, Amsterdam
Far from conventional, Sir Albert Instagram account is not what you'd expect but dig a bit deeper and you'll find a real gem. Built in a former 19th-century diamond factory facing the Rijksmuseum in Amsterdam's creative De Pijp district, Sir Albert's interiors ooze passion and creativity.
9. Miss Clara, Stockholm
Embracing it's striking Art Nouveau architecture, Miss Clara is a beautiful boutique hotel housed in a former girls school in the heart of Stockholm. Natural stones, dark timbers and aged furniture, combined with striking lighting installations deliver a chic welcoming ambience.
10. La Mamounia, Marakesh
The embodiment of Morrocan style, when it comes to stylish hotels La Momounia is a vibrant interior with a rich heritage. Boasting the character of a Morrocan home, combined with the expectations of a Moroccan palace, the Arab-Andalusian Art Deco-influenced architecture & interior design is unique.
11. Hotel Pacai, Vilnius
Built in the former residence of Pacai nobles, Hotel Pacai is a beautifully elegant property fusing stunningly simple, contemporary interiors with a rich baroque architecture and heritage. Marble corridors, rich timbers and dark evocative designs make this hotel one not to forget.
12. Hôtel Costes, Paris
When it comes to stylish hotels, no hotel design roundup would be complete without mentioning the notorious, iconic Hôtel Costes  With a penchant for romance and opulence, the Belle Époque style interiors are dramatic, rich and bold, while the world-famous bar and courtyard are the place to be seen in Paris.
13. The Slate, Phuket
The privately owned beach resort The Slate is named after the natural materials found alongside Phuket's tin deposits. As one of the most stylish hotels in Thailand, this property is mix of hotel and private villas, the industrial chic interiors are fused with Thai influences, incorporating soft lighting, timber clad walls and natural stone floors.
14. Piet Boon, Bonaire
This account may not be about stylish hotels but we couldn't resist adding the villas at Piet Boon Bonaire to our top 21 for its spectacular simplicity that cleverly uses space, light and a desaturated pallet to evoke the nature of the island and create the ultimate in laid back chic.
15. Bog Hotel, Columbia
Inspired by the rich colors and textures of the minerals of Colombia The B.O.G. Hotel is designed in a minimalist but luxurious style with gold and emerald influencing the interiors along with natural stone, bronze, mirrors &mosaics generating an atmosphere of cool understated elegance.
16. The Dominican, Brussels
A luxury boutique hotel in the heart of Brussels, The Dominican is a seriously stylish, classic yet contemporary hotel created in a historic Dominican Abbey. Beautifully curated furniture combined with elegant cloister architecture creates a unique atmosphere that fuses old and new Europe effortlessly.
17. Hotel La Rochelle, France
Located adjacent to La Concurrence beach, the rock and roll cool Hotel LaRochelle becomes home to the many musicians that play at the annual Francofolies festival each July. Housed in a 17th-century building the interior is boldly contemporary and a living gallery of the owner's art collections.
18. Nobu Hotel, Shoreditch
A new build of glass, steel, concrete, and timber the newest Nobu Hotel is located in the vibrant, creative Shoreditch neighborhood. Sleek interiors are influenced by Japanese art and culture, with sumi-e, an ink painting technique central to East Asian art and philosophy used throughout.
19. Blue Lagoon Retreat, Iceland
Built into an 800-year-old lava flow at the edge of the Blue Lagoon, The Retreat Hotel is designed in a modernist Nordic style. Using natural materials and finishes from the local area, combined with a color palette reflecting the landscape, the wall to floor windows fuse inside-outside seamlessly.
20. Zoo Hotel, Berlin
When it comes to stylish hotels, the bohemian edge and polished elegance create a stunning Hollywood inspired interior at the Hotel Zoo. With crimson feature drapes, a catwalk carpet by Diane von Fürstenberg and striking Tom Dixon wing chairs, the glamorous "living room" lobby beautifully reveals the character of the hotel ahead.
21. Almanac, Barcelona
Located just steps from Paseo de Gracia, The Almanac Hotel is one of our favourite stylish hotels – designed with a disciplined Art Deco influence, delivering an opulent but simple, contemporary interior with finishes of marble, timber, and brass and a gentle pallet of soothing shades of grey, taupe & gold.