What we did
Interior Design
Public Area Shopfit
Interior Architecture
FF&E Specification
a beautiful new hotel concept for a 143 bed Hampton By Hillton hotel in York
How it began Backstory
Working closely with long-term clients and Hilton franchisees, Avantis Hotels, we originally designed their first Hampton By Hilton hotel in the UK in 2011.
Fast forward eight years and we're now working on their second Hampton branded property in York. With a brief to create striking, open plan public areas that embrace the Hampton brand pillars, we've created a welcoming, sociable & engaging space that combines, yet defines, the different lounge, bar, buffet & restaurant areas in a rich pallet of materials and colours.
The hotel is due to open Q4 2020.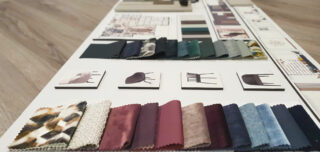 What we did Our approach
Developing the Hampton concept of promoting flexible work & leisure spaces, our interior design concept is an eclectic mix of furniture, finishes and lighting in a kaleidoscopic gradient of luxurious jewel tones, designed to create a unique sensory journey through the space.
We've combined full height glazing, beautiful ceilings and sculptural lighting, with an array of dining areas, lounge seating and group benches, complete with the signature Hampton sofa to provide guests with multiple options, whether their focus is on a business meeting or relaxing with friends.
It's everything we want for the hotel interior design both operationally & aesthetically
Happy Endings The Results