What we did
Interior Design
Public Area Shopfit
Lighting Design
Interior Styling
Interior Architecture
Furniture Design
FF&E Specification
Bedroom Casegoods
3D Visualisation
OCCA was approached by the Marriott Global Design Team, to collaborate on a new prototype design for their Fairfield by Marriott brand in both Europe & the Middle East. The result is a case study in the Beauty of Simplicity.
Middle East & Africa Cultural & Regional
When it comes to designing hotels for different territories, such as the European and Middle Eastern & African regions, our approach is about recognising & celebrating the diverse cultures and traditions that shape these vibrant destinations.
Leveraging our previous ME experience and collaborating closely with the Marriott team in Dubai, we meticulously researched and immersed ourselves in the diverse regional cultures ensuring our Fairfield designs worked across many countries in the MEA region.
Our MEA Fairfield prioritises privacy & comfort and factors such as climate, local materials, and sustainable practices while reflecting the cultural essence and specific needs and challenges of the region.
Europe Design Style
Our design concept for the European Fairfield takes inspiration from the origins of the Fairfield brand and translates this into a beautifully simple aesthetic with a focus on nature & natural materials while infusing the principles of warm hospitality into every touchpoint on the guest journey.
With our less is more approach, the Fairfield  prototype delivers a minimalist design incorporating an open floor plan, clean lines, simple geometries and a lot of natural daylight. The design focuses on delivering the essentials of hospitality while creating a serene, calming environment for guests to relax and unwind.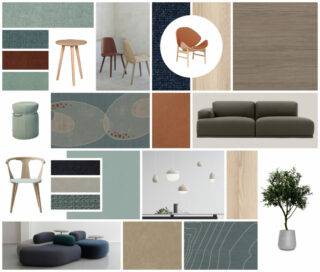 About Principles & Influences
Simple, timeless & contemporary
The Fairfield design style is simple, timeless, and contemporary. It brings together an effortlessly relaxed and efficient hotel design, which takes cues from its heritage and nature, delivering a modern and calm North European aesthetic fused with warm Southern European accents.
The Fairfield guest values staying on track and being balanced, so we designed the prototype with a modern, calm aesthetic.  Our design is smart, straightforward, and upbeat, with warm touches. We take influence from natural materials and a strong indoor/outdoor connection.
Happy Endings The Results
The design focuses on the essentials of hospitality while creating a serene, calming environment for guests to relax and unwind.