At the height of the Covid-19 pandemic, there was an explosion in the need for hotels to have outdoor spaces as guests preferred to work and socialise al fresco. While the restrictions and guidance around Coronavirus may now have changed, many hotel brands are continuing to invest in creating lucrative outdoor spaces.
As well as being an important additional source of revenue, hotel gardens and terraces can also serve as key differentiators that entice guests and help properties to stand out from the crowd. As such, outdoor designs are now being given the same level of consideration as the interior, with hotels working to create areas that are luxurious and comfortable as well as functional all year round. 
Here we look at some inspiring hotel garden and terrace designs around the world and explore one of OCCA's recent hotel projects.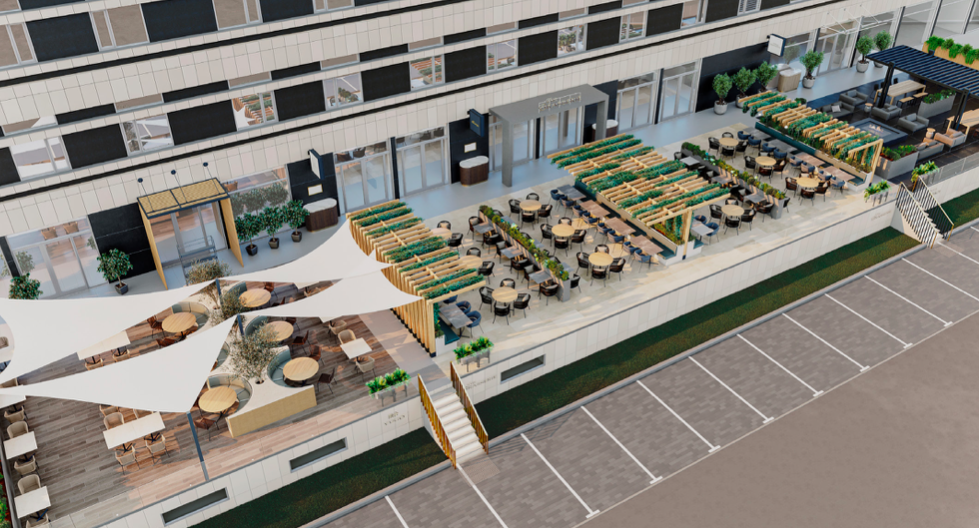 Inspiring Outdoor Spaces: The Best Hotel Gardens and Terraces
While hotel gardens and outdoor spaces may once have been reserved for swimming pools and al fresco bars, external areas now serve a multitude of purposes. "Whether it's a roof terrace, courtyard or private patio, there is an abundance of energy and innovation being poured into exterior design at the moment," says OCCA Founder, Kate Mooney. "We have seen a real focus on creating synergy between the interior and exterior as well as a desire to design outdoor spaces that are in harmony with the natural world."
One such hotel is the Rosewood Villa Magna in Madrid which underwent significant renovations and reopened in 2021. As part of the redesign, the hotel's grounds were transformed into a lush oasis which is in sync with the hotel's wellness philosophy and offers guests the chance to unwind in the heart of the city. The hotel has also been enhanced with a verdant roof terrace where guests can enjoy an open-air Sunday brunch surrounded by beautiful foliage and ancient cedar trees.
"The increasing importance of wellness within the hotel industry is also driving the move towards more innovative outdoor spaces," says Kate. "From outdoor showers to peaceful hotel gardens, spaces that promote wellbeing can be highly attractive to busy travellers looking to get away from it all." 
The Secret Bay in Dominica has taken the wellness concept one step further by introducing an organic garden to each of the property's villas. The gardens have been designed to support guests' physical wellness by allowing them to harvest their own fresh produce and enhance their nutrition during their stay.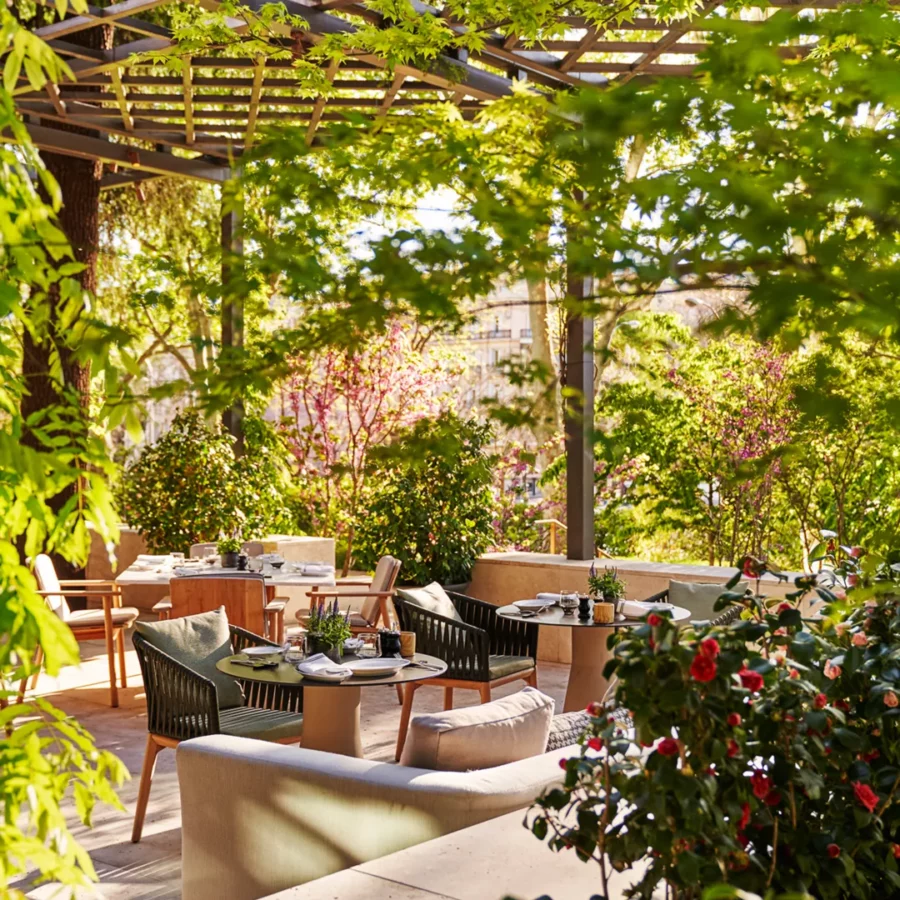 The OCCA Outdoor Space
In 2021, the OCCA team worked on the transformation of the Crowne Plaza in Sofia, and the designers drew inspiration from the beautiful and historic city to develop a luxurious five star hotel, spa and conference centre.
By focusing on the textures, colours and architectural details present throughout Sofia, the OCCA team created an interior concept that is enriched with patinated copper accents, marble detailing and a Bulgarian agate-inspired palette. The result is a space that exudes understated luxury and encourages guests to connect with the city around them.
In addition to redesigning the guestrooms, a key part of this project was maximising the potential of communal spaces, both indoors and outdoors. The public areas of the property were carefully considered and reconfigured to create agile spaces that allow guests to effortlessly transition from work to relaxation. As well as improving the guest experience, these newly activated spaces serve to enhance the property's operational efficiencies and increase its revenue potential.
Overhauling the hotel's restaurant was central to this activation and this led to the development of Yugo, an innovative Japanese fusion eatery imbued with a less-is-more aesthetic. As part of the restaurant renovation, the team undertook an ambitious redesign of the hotel's roof terrace. This previously unused outdoor space was transformed to double the covers of the restaurant and create a unique indoor/outdoor destination that appeals to both hotel guests and Sofia residents.
"Developing the roof terrace was a real no-brainer for us," says Kate. "It was absolutely bursting with potential and the scale of the space meant that we could offer our clients tangible ROI by creating a multi-purpose area that dramatically increased the capacity of the F&B offering. 
"We mirrored the palette and textures featured inside to create a seamless flow between the interior and the exterior. We then developed three zoned areas within the terrace, each of which is suited to a specific purpose. The booth seating area with its white sail canopies and fresh palette offers the perfect space for business lunches while the central area, with its plant-bedecked pergolas, is ideal for casual dining. At the far end is a sophisticated area that we designed with after-dark drinks in mind. The luxe oversized sofas, firepit tables and black tiled flooring work together to create an opulent space that inspires visitors to unwind with a cocktail and some elegant bar snacks."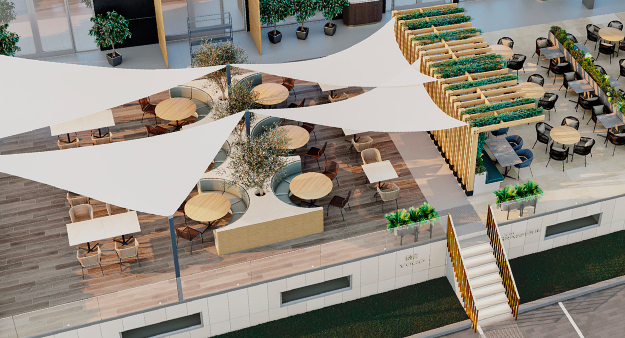 Outdoor Furniture Designers
The OCCA approach to FF&E means that design clients have instant access to some of the world's most innovative manufacturers and exclusive designers, including a host of highly sought-after outdoor furnishing brands.
Ethimo
Italian outdoor furniture brand, Ethimo, has long been a favourite of the OCCA design team. Marrying laid-back Mediterranean style with precise design and engineered finishes, each Ethimo collection brims with innovation and the intricate details that you only find in the finest quality furnishings.
"Ethimo furnishings are instantly recognisable and, despite the fact that  every piece is meticulously designed, the brand is bursting with character," says Kate. "Whether I'm looking for a single outdoor armchair for a private balcony or specifying an entire hotel roof terrace, Ethimo designs instantly elevate the space and offer the perfect balance of style and comfort. We have been working directly with the Ethimo team for years and have an excellent relationship with the brand. We are very proud to be able to specify their highly sought-after pieces for projects around the world."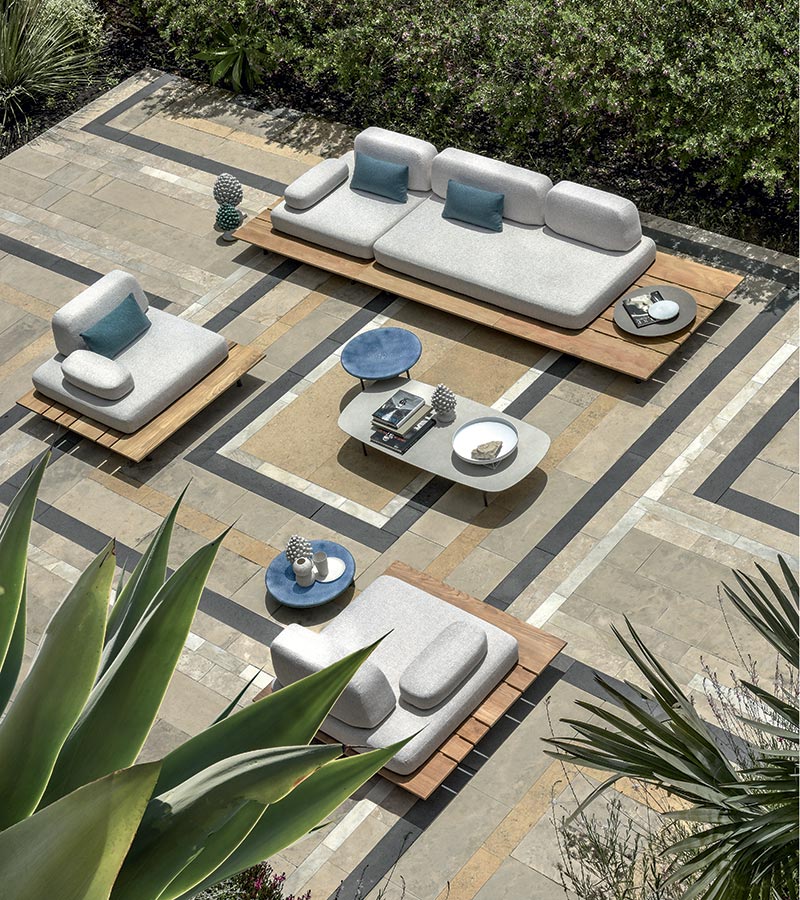 Todus
Superior designs and the highest quality materials are at the core of the Todus brand. Based in the Czech Republic, Todus focuses solely on outdoor furniture and the designs blend contemporary silhouettes with unrivalled comfort to create collections that truly stand the test of time.
"When first used Todus in a project, I was immediately impressed by the level of craftsmanship in each design," says Kate. "The Lotos modular sofa has since become one of my favourite pieces to include in outdoor settings owing to its incredible flexibility and luxurious comfort."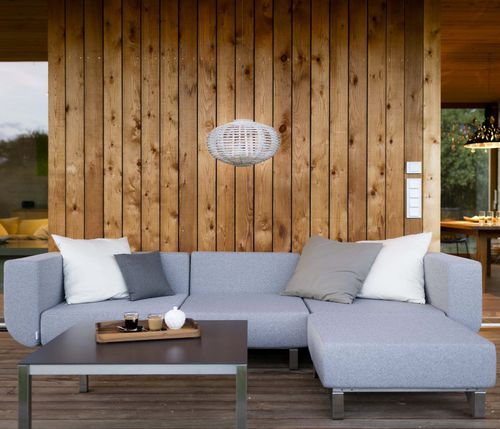 Gloster
With a lineage that stretches back to the 1960s, Gloster outdoor furnishings are a fusion of rich history, traditional materials and cutting edge design. The result is an utterly unique collection that spans everything from outdoor pendant lighting and fire bowls to luxurious day beds and dining furniture.
"The teak used in many of the Gloster designs is second-to-none," says Kate. "As well as being beautiful and incredibly hard-wearing, you can be confident that every piece of wood used by Gloster has been sourced in a way that is both ethical and responsible. At OCCA we are constantly striving to improve the sustainability of our designs and an important part of that process is creating strong relationships with brands that are aligned with our ethos."
Let's talk about you…
If you're looking for some ideas or advice for your hotel property, we'd love to help. Contact the OCCA Design team and we can discuss your next steps and how we can help you take them.