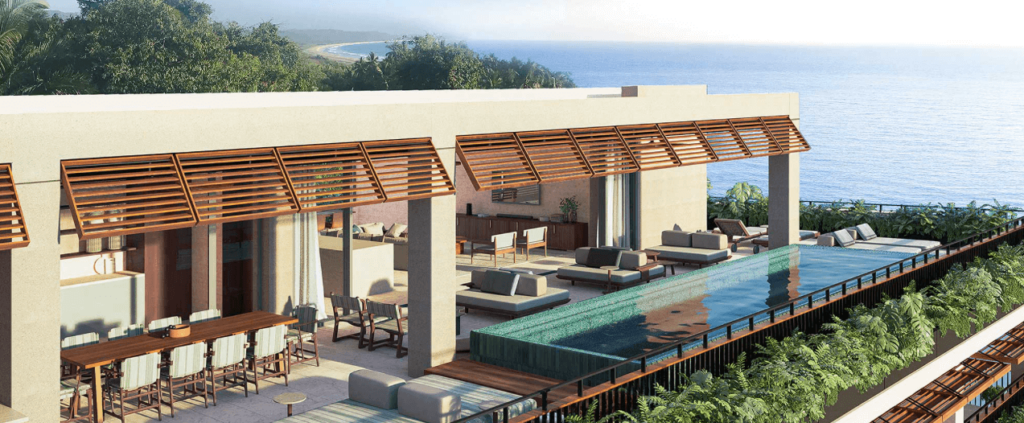 From technological leaps to emerging trends, the hotel industry is constantly evolving to fit the changing needs of guests and the shifting global landscape. One of the most recent developments is the expansion of branded residences, a growing trend that is blurring the line between a home and a hotel stay.
Although not an entirely new concept, the popularity of branded residences appears to be on the rise with Savills reporting that the sector had grown by more than 150% over the last decade. These robust figures are expected to climb further still and forecasts suggest that the 640 branded residence schemes that currently exist around the globe will have increased to 1100 by 2027.
Here we look at why interest in branded residences is soaring in 2023…
What is a branded residence?
A branded residence is a private residential property that has been developed in collaboration with an established luxury brand. Aimed at high net worth individuals, these properties combine the superior design characteristics, service levels and amenities of their associated brands in order to offer buyers an exclusive lifestyle experience.
Perhaps unsurprisingly, luxury hotels make up the majority share of brands involved in this sector. Marriott has been the biggest player in the branded residential space since 2002 and now offers 16 differentiated brands to ensure there is a tailored offering to suit every buyers' needs and location. Accor has also invested heavily in this area with the brand expecting to triple its existing portfolio of properties by 2027. Meanwhile, the Four Seasons intends to double its number of private residences with new developments in Jeddah, Bahrain Bay and Doha.
Although hotels remain strong in this area of the market, the sector has diversified in recent years with brands from other industries also opting to partner up with property developers. High-end fashion houses, car manufacturers, jewellers, global media corporations and interior designers are all lending their names and brand identities to residential properties to offer new levels of luxury living.
 The key locations for branded residences are also evolving. The concept of creating residential real estate in collaboration with a hotel brand first began in the Americas, however this model has now taken root around the world. Today, Dubai leads the way as the premier location for branded residential properties followed by New York and Miami. However, the past few years have seen growth in new locations with Thailand, Hong Kong, Vietnam, Australia and the UK all emerging as promising markets.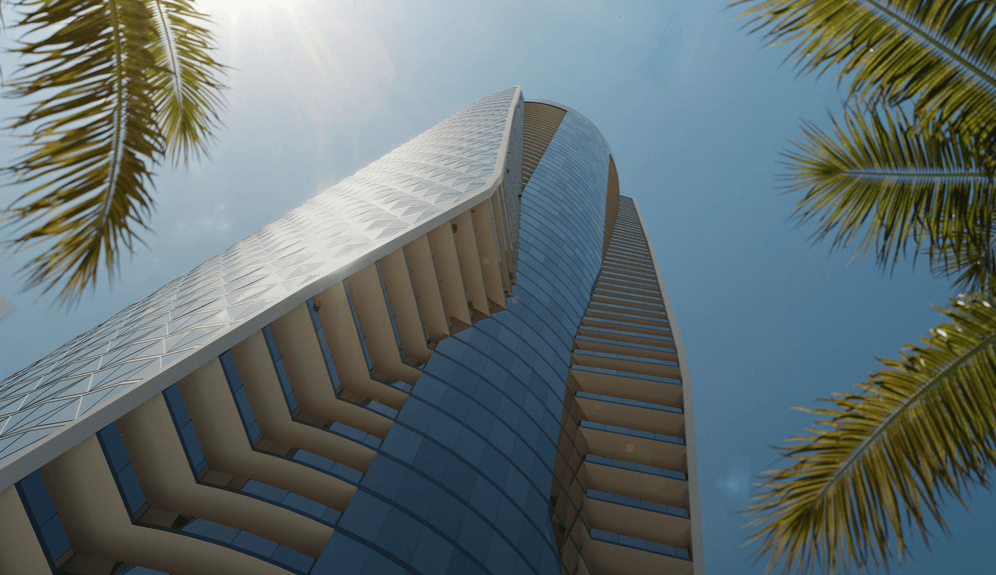 Why are hotel brands investing in branded residences?
The resilience of the branded residential sector during what has been a highly uncertain period for the hospitality industry has made this a very attractive area for hotel brands. The enduring success of the sector has been credited to a global rise in high net worth individuals and to a change in buyers' needs post-pandemic. "The way people travel and use their homes has fundamentally changed since the Covid-19 pandemic," says OCCA Founder, Kate Mooney. "Many people are travelling for work less and spending more time in their own homes which has led to a desire for second properties, enhanced amenities and a greater focus on wellbeing and sustainability."
The leading reason that the appetite for branded residences continues to grow may be a result of the confidence that trusted brand names instill within buyers. Jeff Tisdall, Chief Business Officer at Accor One Living, stated, "Around the world, we are seeing strong demand for homes that are anchored by the comforts and promises of a beloved brand experience, providing a sense of belonging and community."
In addition to being a lucrative investment area, branded residences also offer hotel brands an opportunity to create deeper, more meaningful connections with their customers. "For many people, a residential property is one of the biggest and most personal purchases they will ever make," says Kate. "Investing in a branded residence is an incredible endorsement and a chance for the brand to nurture a lifelong relationship with a loyal customer. Marriott has maximised this opportunity by offering residence owners VIP treatment at their properties worldwide and Elite status in their Bonvoy loyalty programme."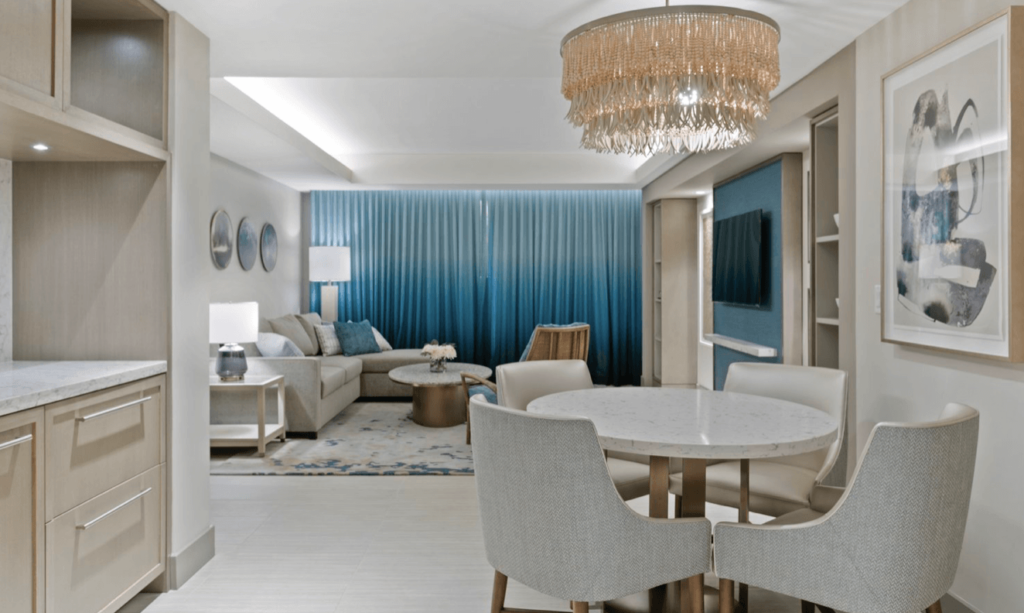 Why are buyers choosing branded residences?
Boasting some of the world's most exclusive postcodes, five-star service, stunning interiors and incredible amenities, there are plenty of factors that make branded residences an appealing prospect for buyers. "The idea of living in a hotel may sound like the preserve of Hollywood A-listers, however a branded residence is far more than a prestige purchase," says Kate. "These properties offer highly personalised luxury living in unrivalled locations, plus they are a smart investment to boot."
Brand Loyalty
Properties that are associated with a trusted hotel name are imbued with the credibility that the brand has built up over many years. This means that brand loyal buyers can feel confident about purchasing a branded residence, safe in the knowledge that the property they are investing in will meet the high standards they have come to expect from the brand. This confidence can be particularly helpful for buyers who are unable to view their property in person, or who wish to purchase prior to a project's completion.
Outstanding Amenities
The service and amenities offered by hotel branded residences elevate luxury living to a whole new level and can be a key decision maker for buyers in this sector. "From access to elite level sports facilities and on-site spas to concierge teams that can anticipate your every need, hotel branded properties offer on-tap five star service 24-hours a day," says Kate. "Brands are going above and beyond to create turnkey residences that offer both flawless service and a sense of community that ensures owners feel completely at home."
Superior Security
The majority of branded residences are not primary homes which makes the high levels of security on offer hugely appealing to buyers. "Many branded residence owners travel extensively for both work and pleasure meaning the property may be empty for extended periods," explains Kate. "However with security personnel, cutting-edge technology and constant monitoring, owners can simply lock the door and walk away with complete peace of mind."
Location, Location, Location
Whether they are in the heart of a city, on a secluded beach or deep in the jungle, exclusive locations are central to the appeal of branded residences, with hotel brands securing some of the most desirable spots around the globe.
"While locations such as Miami and New York are very well established for this sector, some brands are now collaborating with developers to build homes that are off the beaten track," says Kate. "For example, Aman has a number of residential properties in the pipeline including a wellness retreat on Mount Moiwa in Japan and a collection of villas in Bali's southernmost peninsula."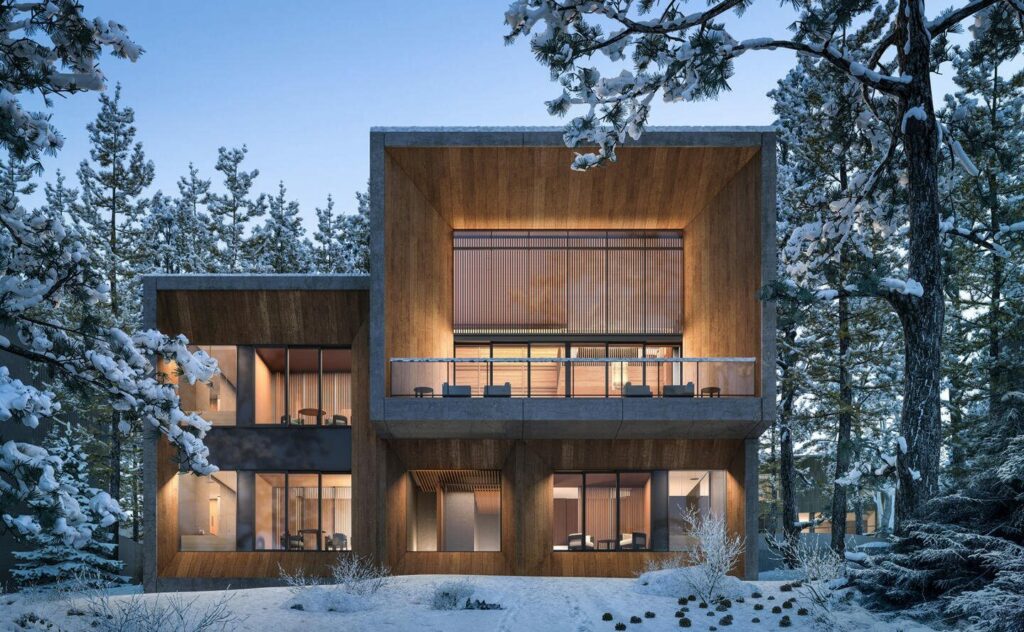 Let's talk about you…
If you're looking for some ideas or advice for your hotel property, we'd love to help. Contact the OCCA Design team and we can discuss your next steps and how we can help you take them.