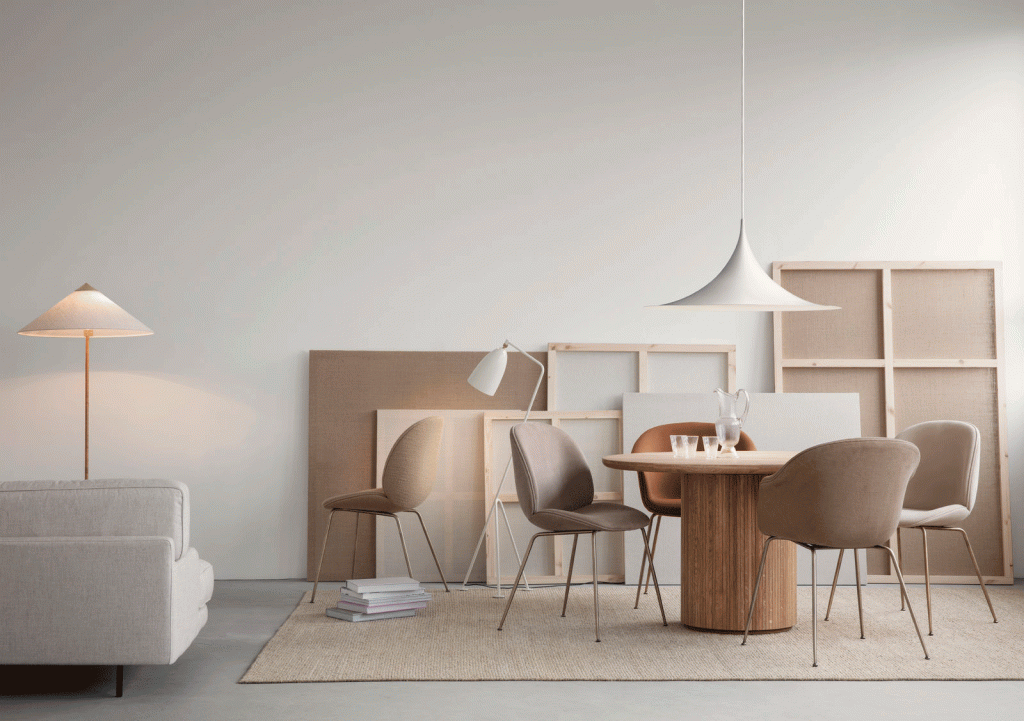 FF&E Procurement – oh, how the design industry loves to use buzzwords and acronyms! However, unless you're in the know, dense terminology and acronyms only serve to make the design process seem opaque & intimidating. At OCCA we love nothing more than transparency and sharing our experience & knowledge to ensure that clients and team alike fully understand our processes and services.
FF&E and OS&E Procurement are some of the key services that OCCA offers clients and an area of the design industry where there can be a lot of ambiguity about what it means and what it involves. So, we're here to answer every question you might have on the topic. From the small details to the big picture, we'll explain all things FF&E and OS&E.
What is FF&E?
So, what exactly is FF&E? Well, the short answer is that the acronym stands for Furniture, Fixtures & Equipment [you may also hear some people say Furniture, Fittings & Equipment and occasionally use FF&A instead – meaning furniture, fixtures & accessories].
FF&E is the well used contractual term that most of the industry works with to categorise the movable, non-fixed furnishing products that are specified for an interiors project.
The longer answer is a little more complicated and considers the classification of FF&E within a building contract and a business accounts system.
When we are explaining what FF&E is to a new client, we suggest imagining that you can take the building, turn it upside down and give it a little shake… everything that falls out is classed as FF&E. Put another way, everything within the building that is fixed, i.e. the walls, ceilings, doors, windows etc is not FF&E. So, in summary, an FF&E budget covers all the items that go into an interiors project that are not part of the structure of the building.
If architecture is the bones of a project, then FF&E is the flesh that makes up the body. FF&E refers to the products that Interior Designers specify to furnish and equip the interiors including sofas, chairs, tables, beds, headboards, decorative lights, curtains, spa furniture & equipment, office desks, accessories, etc along with items such as specialist joinery, bedroom case goods, public area shopfit and not forgetting lighting, appliances, audio-visual & IT kit.
At OCCA, the journey starts with the FF&E designers we work with but doesn't end with the selection of the products. Once all these products are approved and scheduled, the Design Team pass the project to the FF&E Procurement Team who get on with the business of pricing, negotiating, purchasing and landing all the products on-site – on budget & programme.
If architecture is the bones of a project, then FF&E is the flesh that makes up the body.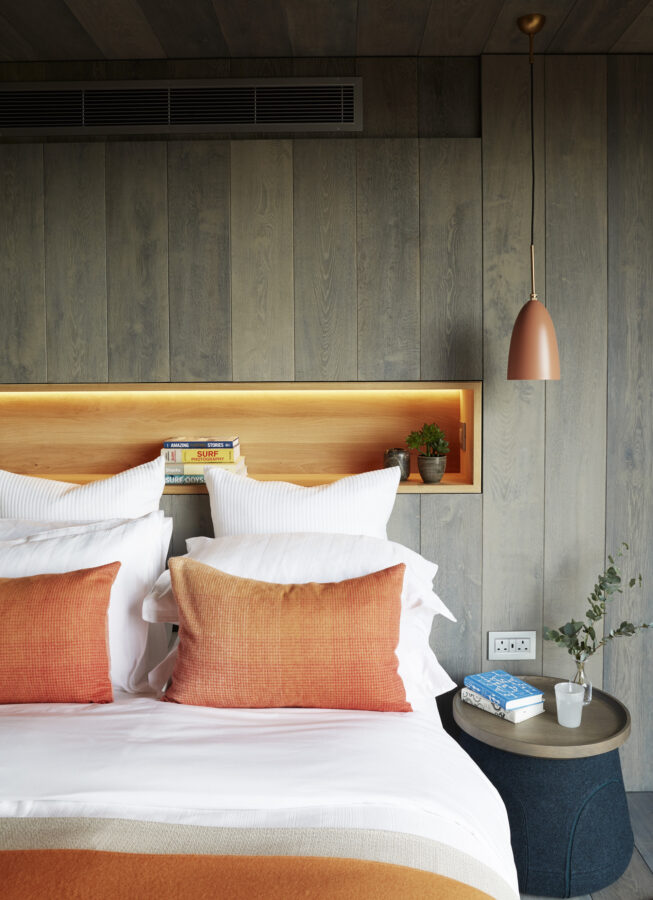 What is OS&E?
Another popular acronym in the interior design world, and particularly around hotels is OS&E, which stands for Operating Supplies and Equipment. What is the difference between OS&E and FF&E? Think of it this way, if FF&E includes the loose products that a guest or member of staff interacts with, then OS&E are the pieces that they need to operate within the space. Typically OS&E are products that do not need to be installed.
So, for a hotel project, OS&E includes items such as towels, bed linen, crockery and glassware, irons and hairdryers etc. it also includes products and items that staff uses, such as uniforms, office equipment and cleaning equipment.
What is the difference between purchasing and procurement?
People often mistake purchasing for procurement and vice versa or use the terms interchangeably. These are, however, quite distinct operations. Purchasing, in a nutshell, is the final stage of simply ordering goods. Procurement, on the other hand, is made up of many steps before and after purchasing, including research, sourcing, negotiating, supply chain management, transport & logistics, budgeting, project management and installation.
If you think of purchasing as a one-step process – similar to clicking 'Buy Now' online, then procurement is the precursor to purchasing and the mechanism that gets the products to site.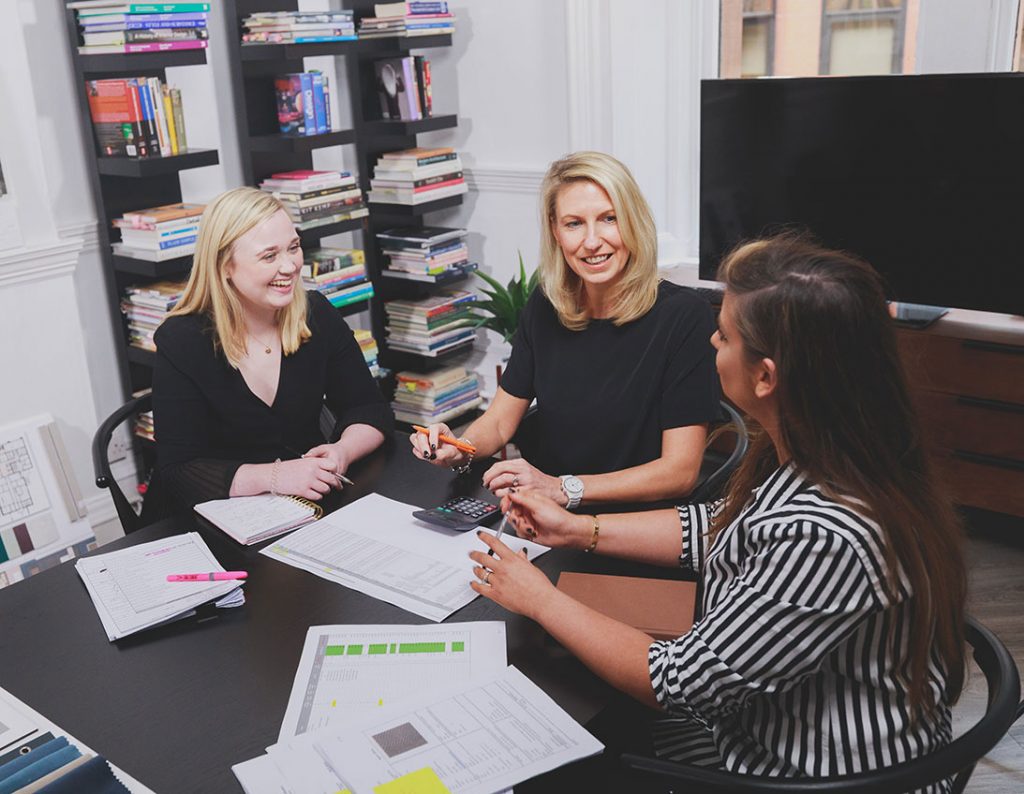 What is the difference between purchasing and sourcing?
Sourcing is integral to securing the perfect FF&E procurement. It is, therefore, key to understand what goes into this phase of the design process in a bit more detail.
If FF&E is a mountain – then purchasing is merely the summit: you've been through the trek up, but there is also the trek back to tackle before the project is complete. Think of sourcing as the trek up.
Here are the five steps we go through when we're sourcing products:
Research: Everything starts with product and supplier research, usually driven from the interior designer's specifications. Getting the right product aesthetically is key, however, we consider many other factors including how sustainable are the products? Do they meet industry standards? Are the materials durable? Are they safe? Are they functional? Do they meet the budget requirements? What are the lead times?
Product Development: Often designers create bespoke products and designs for a project that have never been manufactured before. So the OCCA Buying Team will undertake a rigorous product development process with suppliers and manufacturers, developing prototypes to bring these products to life.
Testing: Before finalising product selection, we will often co-ordinate third-party product testing for things such as sustainability, durability, flame retardancy etc to ensure that every product we procure meets the relevant standards and regulations.
Budgeting: alongside the specification & prototyping stages, each product is processed through the budget framework for the project and put out to tender to obtain best pricing and value for our clients.
Scheduling: The sourcing process must also factor in the programme and how long it takes to manufacture or produce items. This is known as lead time, and part of our job is to accurately plan around lead times in order to procure the right products and schedule a seamless timetable of installation later on.
What does the FF&E procurement process look like at OCCA?
We have a 9-step process at OCCA that we've perfected over the years.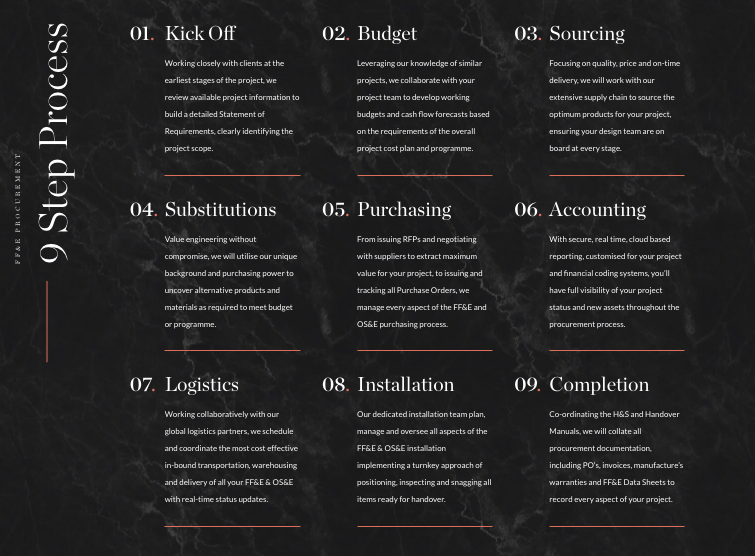 Step 1 - Kick Off
This stage is all about working closely with clients to get the project kicked off properly. We undertake an interactive workshop with all the relevant stakeholders where we discuss and review all the available project information. During this stage, we will build a detailed Statement of Requirements that clearly identifies the project scope & requirements along with a Demarcation Doc that outlines the project responsibilities between the client, contractors and FF&E Procurement teams.
Step 2 - Budget
When we get to the budget stage, we leverage all our years of experience, looking at previous projects with similar scope and build a customised project cost plan. We then collaborate with clients & project teams to develop a working budget and cash flow forecasts aligned with the overall project cost plan and programme.
Step 3 - Sourcing
We have an extensive, global supply chain that we work with, and during this stage, we zone in on the various FF&E packages that make up the project including packages such as soft furnishings, lighting, furniture, casegoods, shopfit, artwork etc.
From there we identify potential suppliers that match the quality, price and delivery requirements. We focus on finding the optimal products for our projects, from both a design and cost perspective and we ensure the wider design team are on board at every stage.
Step 4 - Substitutions
"Value engineering" is a phrase that has broken many a designer's heart!
However, as our procurement team work so closely with interior designers, they know and understand how important the aesthetic, details and quality are for a design scheme and are super sensitive to protecting the integrity of that, while staying laser focussed on delivering competitive FF&E packages within budget and timescales.
We like to deliver "value engineering without compromise" and utilise our unique background and purchasing power to uncover alternative products and materials as required to meet budget or programme.
Once the products are finalised and signed off by the Design Team we set about building the tender packages and driving the tender process.
Step 5 - Purchasing
So, while we oversimplified the purchasing process earlier in this article, purchasing does in fact cover all aspects of finally buying the product, and at OCCA this includes issuing RFPs [requests for pricing] and final negotiations with suppliers to deliver maximum value for our clients before undertaking all the order admin tasks such setting terms & conditions of purchase, issuing POs [purchase orders] and tracking deliveries.
Step 6 - Accounting
Accounting is a crucial part of the procurement process and fundamental to the success of a project. We work with real-time, cloud-based software and create customised reporting and financial coding systems so that our clients always have visibility of the project status and their new, tangible assets at every step in the process.
Step 7 - Logistics
Getting the right products landed on-site, on budget and on time is really what the procurement process is all about. With projects all over the world, at OCCA we have a network of established global logistics partners we work with regularly, providing a seamless service that covers everything from transport planning, cargo insurance, customs clearance, warehousing and inventory management for our projects.
Step 8 - Installation
Regularly voted one of the most satisfying parts of the job by Team OCCA, on-site installation is where all the hard work and attention to detail of the procurement process comes together. At this stage, we deploy our dedicated installation team who will plan, manage, and oversee all aspects of the FF&E & OS&E installation, including positioning, inspecting and snagging all items, ensuring they are ready for handover.
Step 9 – Completion
Attention to detail is crucial throughout the procurement process – right down to the final closeout and handover. At this stage, we co-ordinate the H&S [health & safety] and Handover Manuals and collate all the procurement documentation, including FF&E Data Sheets, manufacture's warranties, FR certificates etc; in order to record every aspect of the project and provide a full record of it for our clients.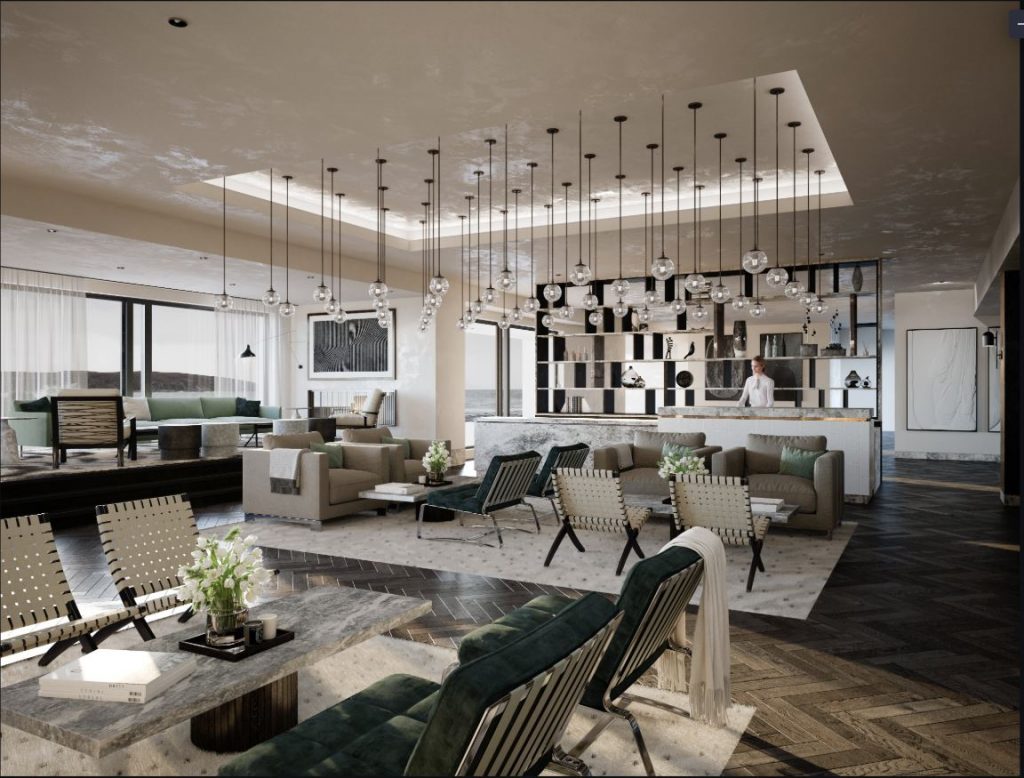 How do you account for FF&E in a hotel project?
With the FF&E on a new hotel project accounting for between 10-15% of the overall construction budget, it is a significant investment and one that can directly impact the ADR [average daily room rate] and RevPAR [revenue per available room] of your hotel.
Subsequently, FF&E is also an accounting term that refers to the tangible assets of a business. FF&E products are assets that add value to the business. However, as the useful life of FF&E items can be between 3-7 years, in accountancy terms, these assets are depreciated annually [i.e. their value is reduced year on year over their useful life]
On most hotel & commercial projects, an itemised schedule of FF&E with defined costs, from production to installation is created for bookkeeping and accounting purposes. A typical FF&E budget for a hotel project would account for:
All FF&E within guest areas such as lobbies, restaurants, bars, conference rooms, bathrooms and transit areas such as elevators and hallways.
All moveable and non-movable FF&E within guest rooms, including decorative finishes, such as lighting.
All FF&E within staff areas, such as breakrooms, kitchens, equipment areas.
All FF&E within Back of House areas such as offices, laundries & storage
All computer equipment, technical cleaning equipment, and large kitchen appliances.
What is a reserve FF&E budget?
We always suggest clients create a reserve FF&E budget from day 1.
This essentially involves creating a budget or allowance that enables you to replace items as they become worn or out-of-date and is crucial for the long-term prospects of the hotel looking great, driving revenue and operating successfully.
The trick is to start low, say 2%, when the FF&E is new and then increase this systematically each year as your FF&E ages. Having and protecting this reserve ensures you can maintain your hotel's standards without the need to divert large chunks of revenue in later years. It also protects you in the event that you need to consider defensive spend if a new hotel suddenly opens around the corner.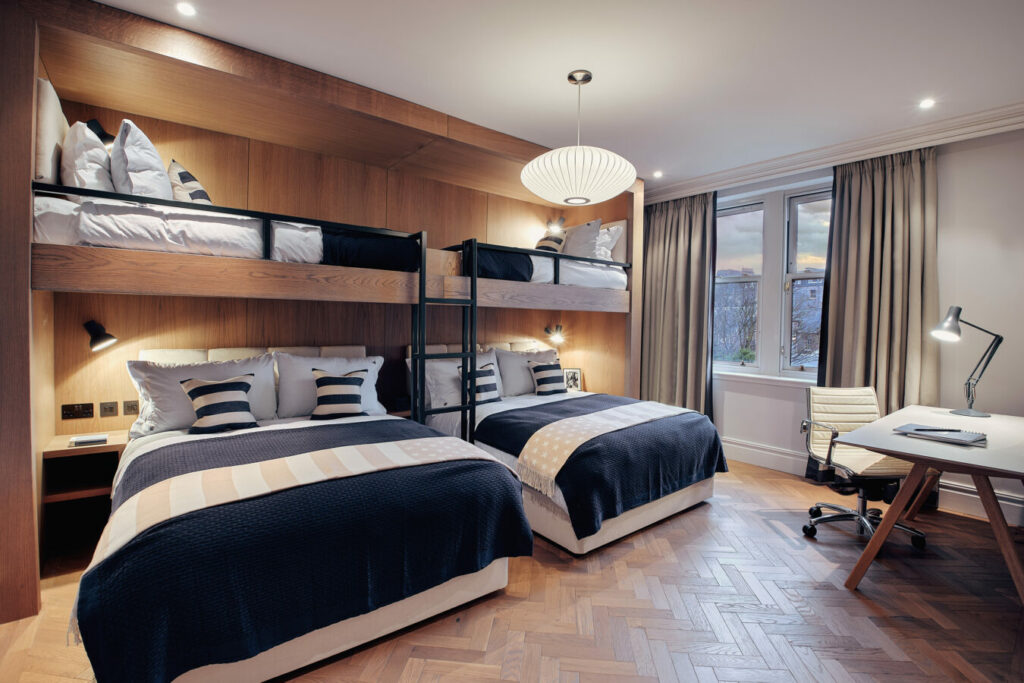 What are the benefits of using an FF&E Consultant?
'Cut out the middleman' sounds great in theory, but in practice, in this world… not so much!
As the specifications for FF&E are so wide and finding the best cost and quality can run to hundreds of different suppliers, having a specialist or consultant research, source and negotiate for you is by far the easier, more logical, and in the long-run, less expensive option.
'Cut out the middleman' sounds great in theory, but in practice, not so much.
Dealing directly with furniture suppliers and manufacturers can also mean being subject to their vested interest in supplying you with as many of their own products as possible. Some of which may not suit the vision, price point or aesthetic you're looking for.
By working with an independent FF&E procurement consultant or specialist, you will save both time and money while gaining the invaluable experience, supply chain and project management skills that a professional consultant will bring to your project. An FF&E specialist will help you quickly identify your brief and budget, they will then bring their trained and experienced eye to your scheme, and zone into your requirements. Leveraging all their network, contacts and industry knowledge they will ensure that your project is completed without abortive costs, on time and on budget, leaving you to get on with your day job.
Ironically, whilst it may seem better to access suppliers and dealers directly and bypass an FF&E procurement consultant, many of these suppliers offer their products exclusively via a dealer, who will then add a sizeable margin to the product. An experienced FF&E firm like OCCA can cut through those layers and costs. By leveraging our purchasing power across multiple projects and sectors, we achieve economies of scale with suppliers that deliver much better pricing and enhanced services for our individual clients. The combination of this and our turnkey service deliver significant value to the project.
So, in terms of FF&E, it's fair to say that the middleman is more like the conductor leveraging knowledge & experience to drive cost savings & value for your project.
What is FF&E documentation and specification?
In a nutshell, this documentation is the scheduling up of the final design elements of the FF&E so that the consultant and contractors can go about sourcing and manufacturing what is required. Typically, this documentation includes: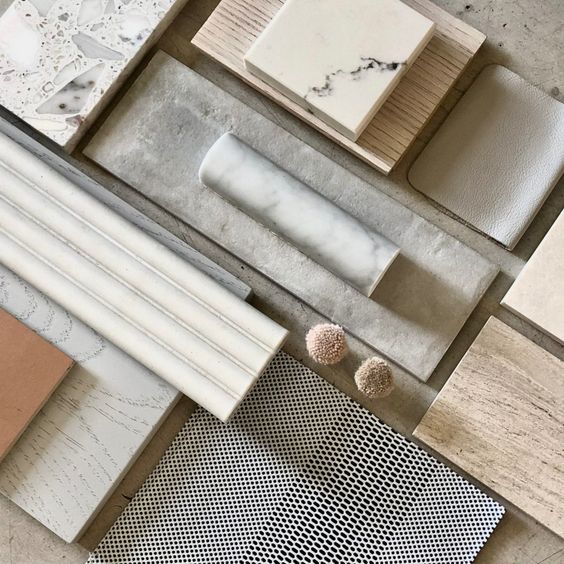 Specifications and sample illustrations of furniture, textiles, light fixtures, and decorations.
Full lighting layouts, floor finishing elements, elevations, as well as the positioning and placement of FF&E.
Details on the mouldings, joinery, ceilings, cabinets, and doors.
The schedule for any paintwork and joinery, along with selected materials.
The schedule for light fixtures.
The schedule for any security elements relating to entryways.
Selections and specifications of decorative elements such as ironmongery, and more practical elements such as sanitary ware.
Fabrication drawings of custom-designed items.
Fabric and finishing samples.
List of recommended suppliers
The budgetary breakdown for each item.
Matrix layout of each area outlining the quantities of furniture, lighting and equipment for each area.
At OCCA, we've been procuring FF&E for over 20 years – we know this industry intimately and would be delighted to walk you through the process.
Thanks to our global network of suppliers, financial expertise, and our detailed reporting and accounting, we can ensure your FF&E is of the highest standard to suit your budget. More than that, we oversee delivery and installation with the aim of making the journey from concept to reality as seamless, and exciting, as possible.
Want to find out more? Download our full guide to FF&E Procurement or discover more about our Procurement Team and what they can do for your project.