Environmental impact has always been an important consideration during the design process, however the increasing urgency of the climate crisis means that sustainability is now the central focus of almost every decision made. From the materials and methods of construction to the operational assets, all aspects of hospitality design are being scrutinised and challenged in order to create spaces that are innovative, efficient and designed to improve sustainability in hospitality.
 Lighting is one of the most energy intensive areas for hospitality venues, with the European Commission stating that it accounts for between 15% and 45% of electricity consumption in small hotels. As such, lighting has become a key focus for designers and specifiers within the hospitality sector, as brands strive to find more sustainable ways of operating while protecting the bottom line in the face of rising energy prices.  
Here we explore the ways in which the hospitality sector can embrace sustainable lighting solutions to create future-proofed interiors that further the global net zero journey.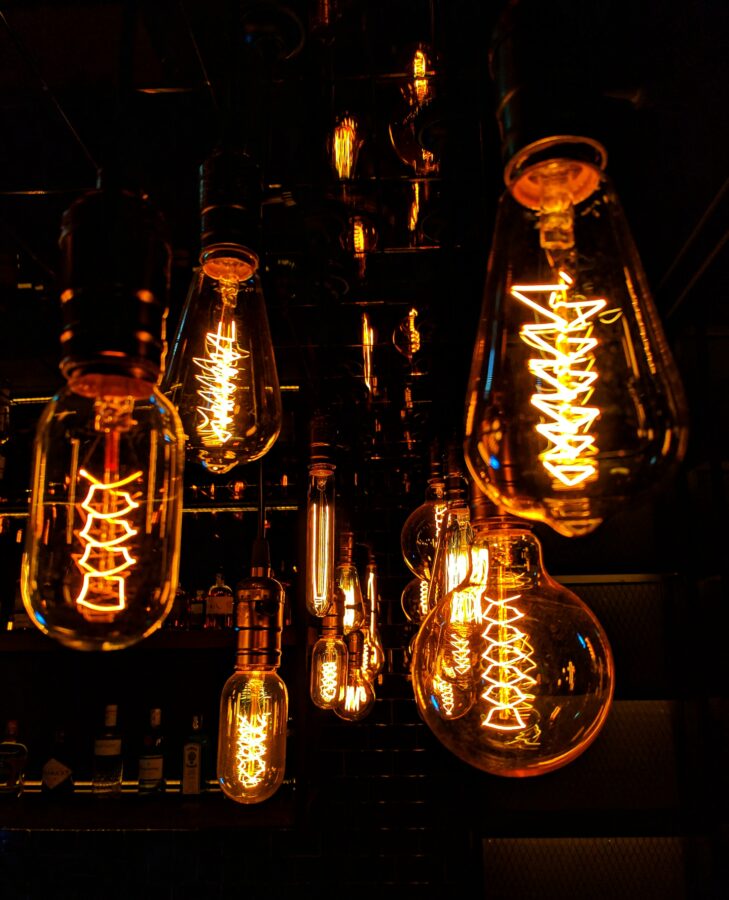 Sustainable Lighting Products
One of the greatest design challenges within the hospitality industry is to reduce energy consumption and develop more sustainable environments without compromising the guest experience. "Lighting has a crucial role to play in the overall look and feel of an interior space and the need for sustainable options has led to the development of incredible, innovative solutions," says Kate Mooney, founder of OCCA. 
Energy Efficient Bulbs
LED and CFL bulbs have been central to the development of more efficient lighting in the hospitality sector and can have a significant impact on both the environmental and financial cost of illuminating a property. For example, the 293-room Prague Marriott Hotel was reported to have saved around 58% on lighting electricity just by swapping to more efficient bulbs. This equates to a cost saving of around €40,000 per year.
In addition to these substantial sustainability benefits, advances in technology mean that low energy bulbs can now replicate the warmth and glow of traditional incandescent bulbs, making them a more appealing prospect for designers and hotel guests alike. LED lamps can also be retrofitted into an existing scheme which removes the need to replace infrastructure and lowers the cost of upgrading.
Sustainable Design
 "In recent years we have seen brands combine cutting-edge technology with low-impact materials and contemporary design concepts to create sustainable lighting that enhances the aesthetic of a project," says Kate. "Well considered design enables us to create the future we want and it is our role as designers to find and support the brands that are paving the way for a more sustainable future."
One such lighting innovation is the Candela Light by Francisco Gomez Paz. This high-tech cordless lamp generates electricity using bioethanol and uses this power to light the 24 LEDs within the lamp. Excess energy can then be collected in a battery cell and used to charge a phone via a USB.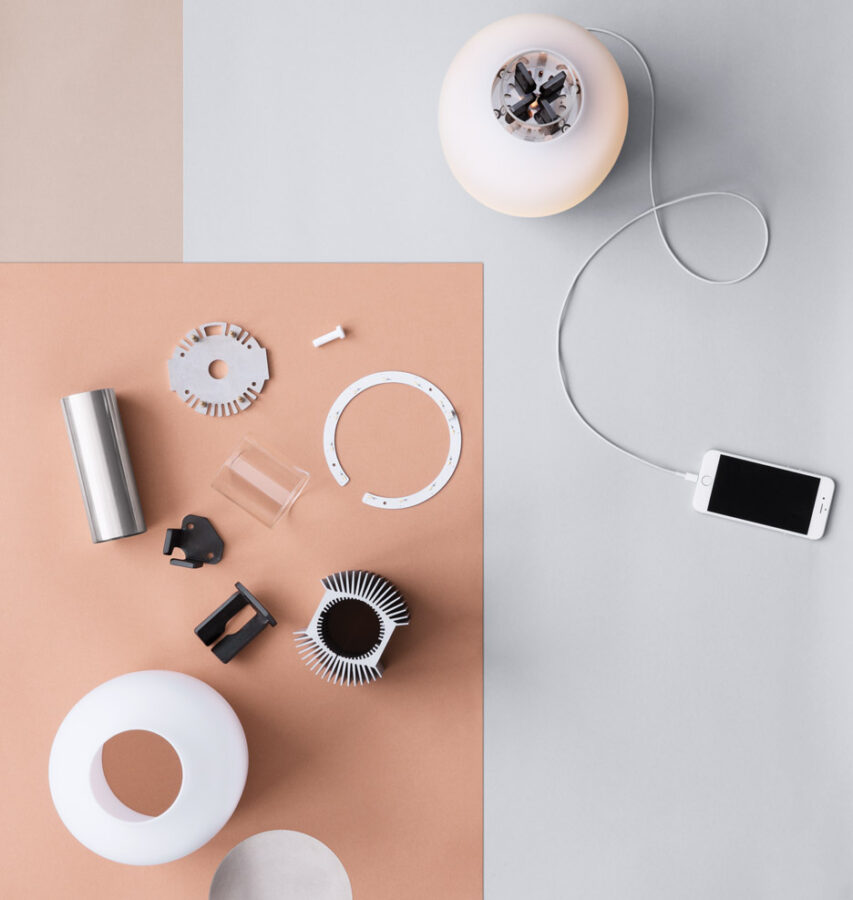 Renewable Energy Sources
While specifying sustainable lighting products is central to the development of more environmentally-friendly hotels, how these lighting solutions are powered must also be examined. Renewable energy sources, such as solar power, wind energy and geothermal energy are being harnessed by hospitality brands seeking to lower their carbon emissions. 
Hotel brands are looking to different renewable energy sources based on their location and the availability of resources. While the Hotel Geysir in Iceland taps into a geothermal system to heat water, Snowdonia's Pale Hall relies on a hydro-electric generator for power. 
 Renewable energy is constantly evolving and, in 2021, the Kawasaki King Skyfront Tokyu REI Hotel became the world's first hotel to be 100% hydrogen powered. 30% of the power supply is generated from plastic waste, including combs and toothbrushes from the hotel rooms, while the other 70% is created from food waste.
Sustainable Lighting Strategies
 "It's important to remember that an effective lighting scheme goes beyond just the appliances," says Kate. "For hospitality venues to be truly sustainable, it's necessary to develop an overarching strategy. Aspects of the building architecture and the interior design, such as the level of natural light, colours and textures, all impact how much light is needed and this has a knock-on effect on the energy requirements of a space. 
"When considering a lighting scheme, our design teams analyse the direction of natural light, the window treatments that will be needed to prevent overheating and the purpose of the space. Not only does this guarantee that the guests' needs are met, but it ensures that the correct level of light is installed, avoiding wasted energy." 
Technology is also essential in the creation of a sustainable lighting strategy in a hotel setting. "Relying on guests to switch off lights and leaving communal areas illuminated 24 hours a day can lead to significant energy wastage," says Kate. "However, technology and automation can address these issues." Sensor technology is central to this and, by deploying discreet sensors in communal areas, lights can be controlled automatically according to the occupancy levels. Similarly, sensors can be used to shut-off the power supply to guest rooms when they are not in use.
Internet of Things (IoT) technology and submetering can also be used to improve the operational efficiency of lighting systems by offering facilities managers a granular view of the building's energy usage. This makes it possible to pinpoint and address any inefficiencies, for example, lighting being left on in kitchens outside of working hours, and lower carbon emissions. 
Circular lighting
The concept of the circular economy is based on using resources more effectively and extending the life cycle of products and materials through reusing, recycling, sharing and leasing. This model is becoming increasingly popular in many sectors and brands such as Philips are leading the charge in the lighting arena. The Philips Circular Lighting service allows users to receive all of the benefits of a Philips lighting system without investing in the equipment. The Philips team will take care of the installation of their sustainably designed products and undertake servicing to ensure their optimum performance. Then, at the end of the contract, the lighting system can be removed and reused or repurposed, thereby minimising material waste and creating a model that offers a sustainable future. 
Schipol Airport recently partnered with Philips and Signify in the lighting design of the newly refurbished Lounge Two. For this project it was key that the lighting promoted a feeling of safety while being fully sustainable and Philips were able to facilitate this for a monthly fee, with no up front investment. "We're working to embed circularity and sustainability in every touchpoint of our projects and we envisage that circular lighting, or lighting as a service, will become a key part of specifying for hospitality venues going forwards," says Kate. "By moving away from a linear lighting economy it will be possible to significantly reduce the overall carbon costs of projects and specify products that are ideally suited to every environment."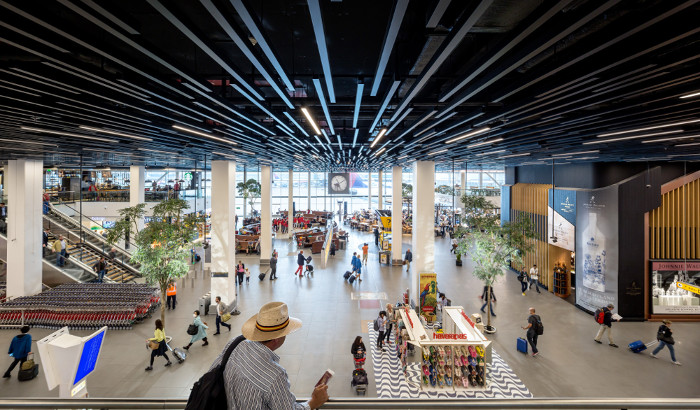 Let's talk about you…
If you're looking for some ideas or advice for your hotel property, we'd love to help. Contact the OCCA Design team and we can discuss your next steps and how we can help you take them.