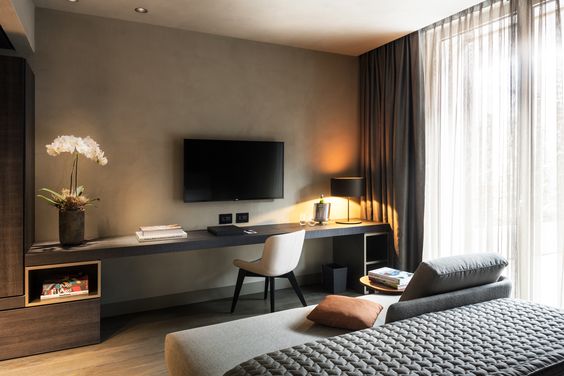 Throughout the Covid-19 pandemic, hotel brands have been innovating and diversifying to recover lost revenue streams. While low room occupancy rates have had a devastating impact on the hospitality industry, hotel brands have developed ingenious ways of generating income from empty guestrooms and given rise to the 'working from hotel' (WFH) trend.
Here we look at how this trend has developed during the pandemic and what the next phase of WFH may be.
Working From Hotel Trend
Working from the comfort of our own homes once sounded like a dream scenario. However, the pandemic has revealed the harsh realities of having to work, rest and play in one place.
Juggling family life while working in a space that hasn't been designed for purpose has been challenging for many people. A survey by Nuffield Health revealed that 80% of Brits felt that working from home had a negative impact on their mental health.
Hotel brands stepped in with a creative solution for those struggling to find a work/life balance while unable to use their offices. With empty guestrooms available, many hotels created packages that provided workers with the chance to hire a safe, peaceful oasis in which to maximise their productivity.
WorkSpaces by Hilton, Work from Hyatt  and Accor's Hotel Office programme have all launched during the pandemic to provide alternative working environments. While many of the WFH packages include essential amenities such as a comfortable workstation, fast WiFi and printing facilities, some hotel brands have added a decadent twist to the nine to five. Spa access, 5pm cocktails and gourmet snacks are just some of the added bonuses of taking a 'workcation'. MGM Resorts have gone even further with the launch of Viva Las Office packages which include a suite at the Bellagio Las Vegas and a poolside massage.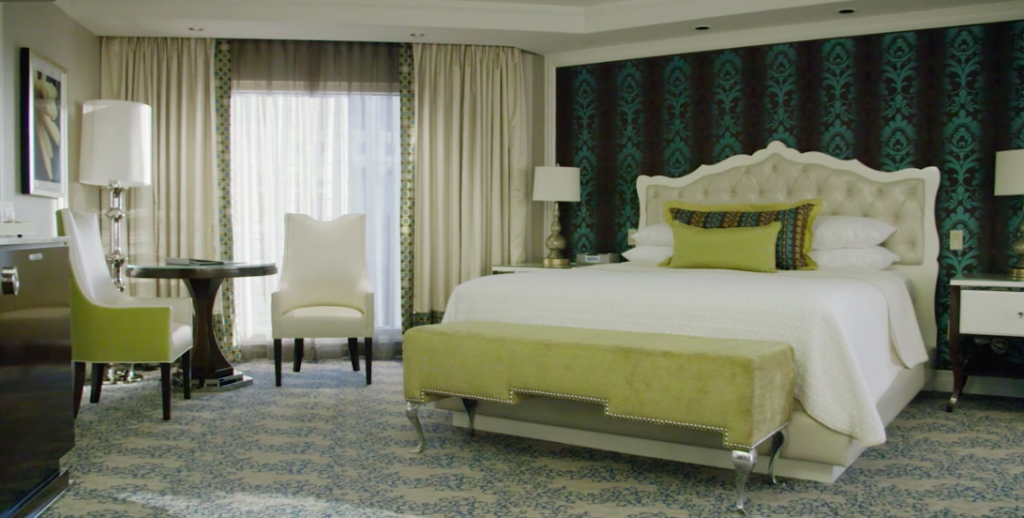 Work From Anywhere
As lockdown restrictions ease, a return to traditional office life seems unlikely. Pre-pandemic there was already a steady move towards co-working spaces, working from home and flexible office hours and Covid-19 has accelerated this shift. The pandemic has served to validate remote working as a productive and successful mode of doing business. Previous concerns around remote communication and collaboration have been largely quashed as tools such as Teams, Zoom and Slack have become integral to our working days.
For many companies, it's likely that a blended model of optional remote working and reduced office hours will become the norm. However, some workplaces are taking remote working one step further with 'work from anywhere' (WFA) policies.
Tech firms lead the way on WFA policies and Spotify have been outspoken about their newly launched Work From Anywhere Program which offers employees ultimate flexibility. The ability to work and travel may always have piqued potential employees' interest, but after more than a year at home, it could be an even more enticing prospect.
In addition to giving workers greater scope to experience new places and visit loved ones, this policy shift presents an exciting opportunity for hotel brands in the new "bleisure" (business-leisure sector).
The Working Traveller
The potential rise in WFA policies means that hotels are considering changes to accommodate this new kind of traveller. Guestrooms may previously have been dedicated to sleeping, rest and relaxation, but more mixed use environments are being explored as hotels reopen.
"While hotel lobbies became thriving hubs for digital nomads pre-pandemic, it may be some time before bustling co-working spaces feel safe again for guests," says Kate Mooney, Founder of OCCA. "With this in mind, the workspace in guestrooms has become even more of a focus in hotel design. A token desk in the corner with a simple lounge chair is no longer enough.
"We're leveraging our workspace experience to bring a hybrid of functionality to the guest room and create a blended hotel-office. From introducing features such as ergonomic seating, standing desks and wireless charging facilities to removing the bed altogether and replacing it with soft seating, we're investigating ways to provide travelling workers with everything they need to do their jobs away from home – "workspitality" is fast becoming the new hospitality." notes Kate.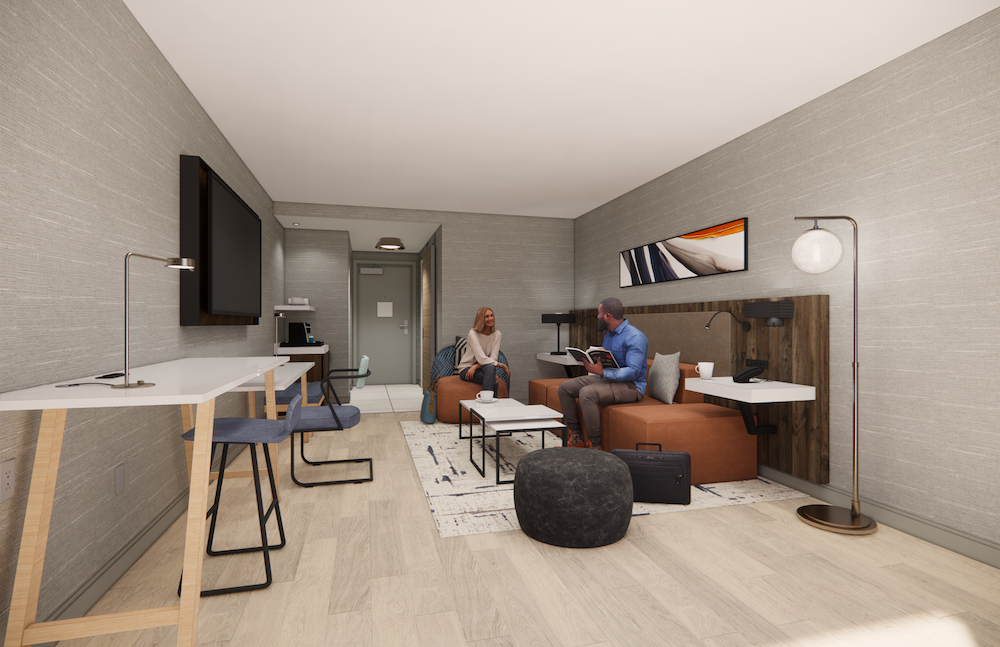 The Rise of Extended Stay Guests
With WFA workers no longer tethered by the need to return to the office, travel may take on an altogether more leisurely pace. Rather than high octane seven day breaks and snatched weekends away, working travellers will be able to take control of their itineraries and make longer trips than ever before.
This trend has contributed to a rise in demand for extended stay hotels as longer term travellers seek accommodation that offers the comforts of home coupled with the benefits of a branded hotel. Facilities to prepare food, living areas, workspaces and enough storage to unpack and settle in are all key to the extended stay experience. Marriott's Residence Inn brand offers long-term guests spacious suites with fully-equipped kitchens and work spaces. In addition, guests will also enjoy on-site fitness centres and enhanced cleaning standards which may be missing from the alternative short-term apartment rental.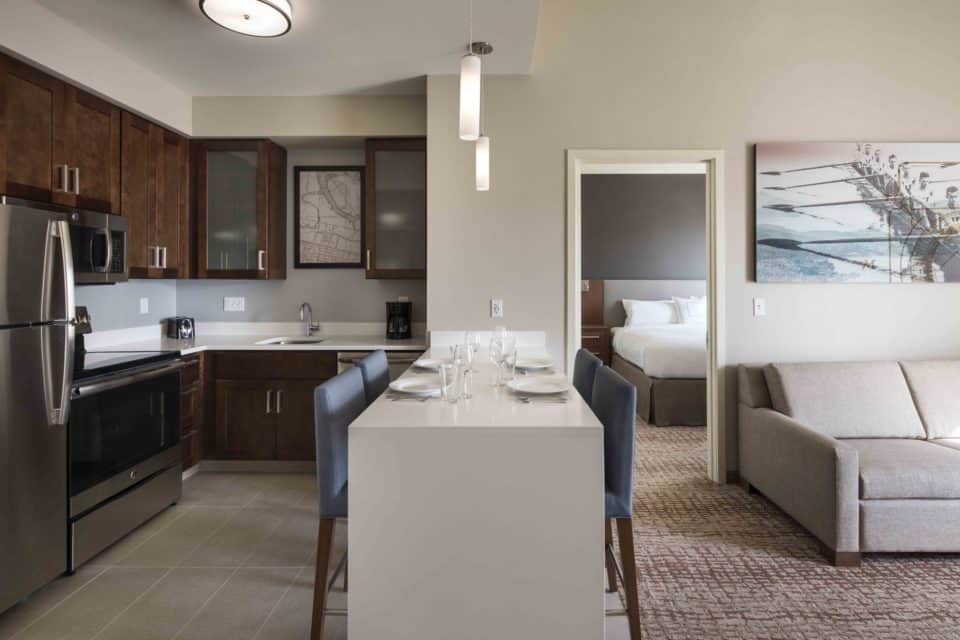 The Arrival of the Monthly Subscription
Another hotel model that looks set to experience a surge in popularity owing to changed working patterns is the monthly subscription. Hotel subscriptions are designed to allow travellers to use multiple different hotels within a brand for a single monthly fee. Whether the guest has to travel for work or is making the most of their work from anywhere policy, a hotel subscription could make the world their oyster..
Amsterdam-based hotel brand, Zoku, launched in 2016 with the aim of creating a space for guests to live, work and socialise. In light of the pandemic, the brand has launched a subscription service that will allow subscribers to experience their venues in Amsterdam, Copenhagen and Vienna on a monthly basis.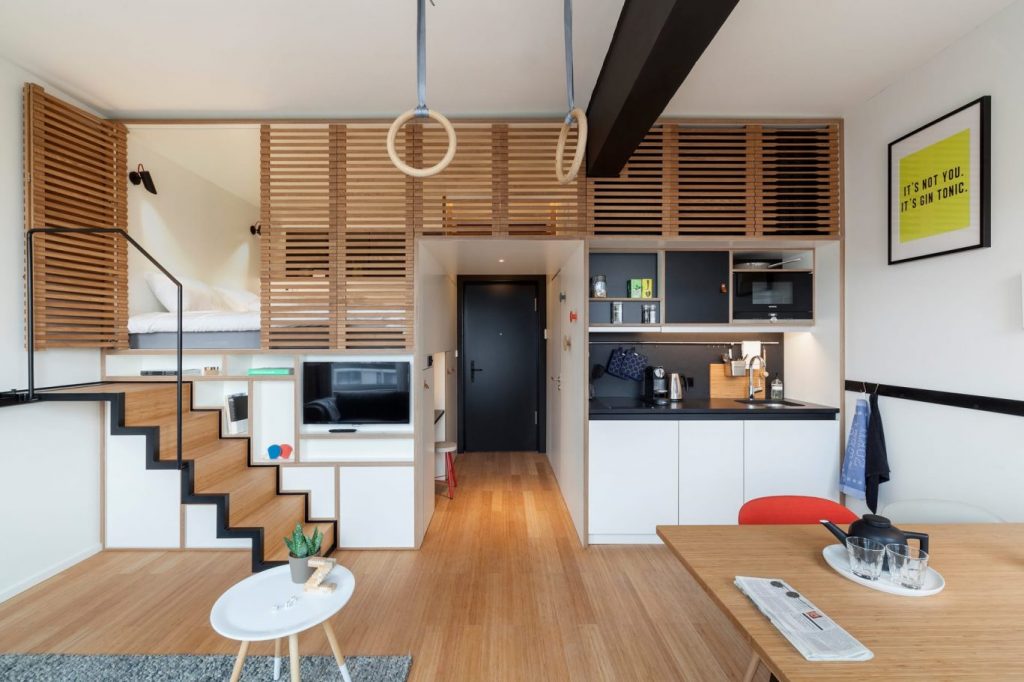 Similarly, Citizen M have recently launched their Global Passport. Pitched at "digital nomads, freelancers and adventurers who love big-city life, but not big-city rent prices", the Passport will allow the holder to make the most of Citizen M's locations around the world for a fixed fee. This combination of value and global travel maximises the WFA opportunity and could signal a major shift in the way we consider extended stays.
"It's a brilliant concept for the hotel group and the guest," says Kate. "Flexibility to work from home is one thing, but the ability to work from anywhere is really exciting. With campaigns such as the Global Passport, the ability to travel, work and live anywhere you like is a reality and is the antithesis of a boring desk job. In addition, the boost in revenue this could deliver for the hotel group in challenging times is not insignificant."
Let's talk about you…
If you're looking for some ideas or advice for your hotel property, we'd love to help. Contact the OCCA Design team and we can discuss your next steps and how we can help you take them.