What we did
Interior Design
Public Area Shopfit
Interior Architecture
Bedroom Casegoods
Client

Definition Capital

Completed

July 2018

Website

Main Contractor

RGB Group

Architect

Maith Design Ltd

Reviews
A striking 161 bed micro hotel and cafe in the heart of Bethnal Green
How it began Backstory
The East London Hotel is positioned on Cambridge Heath Road in the heart of Bethnal Green, opposite the Victoria & Albert Childhood Museum, and beside the Paradise Row restaurants and bars.
During the Victorian era, the area was home to the working classes employed in local industry as weavers and in other light industries. Following the aerial bombings of WW2, Post War architecture now also sits alongside the Victorian. Bethnal Green is in the midst of an earthy urban renaissance, becoming increasingly popular with tech-savvy creatives, hipsters, and artists for whom the lure of nearby Shoreditch is appealing but the price tag is just out of reach.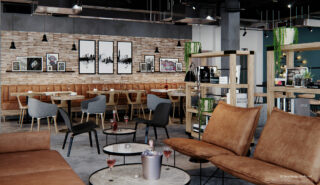 What we did Our approach
Occa Design was briefed to deliver a unique, contemporary design. The hotel would offer a stylish design-led interior brand, coupled with a limited service approach based on small format bedrooms with a high-quality fit-out. This would appeal to both leisure and business travellers wanting to be part of the Bethnal Green creative scene. The independent hotel would have an open-plan public area at street level, with a café bar feel which would be very much part of the community.
Bedrooms and ensuites are thoughtfully designed around the compact floor space. Lighting creates a warm and inviting ambience, aged timber style floors offer a sense of heritage and the contemporary design style of the furniture appeals to the target market of the brand. Bold wall finishes in Inchyra Blue, sit alongside warm tan leather, white Corian, and dark timbers. The practicalities of maximum storage and easily accessible services are incorporated into the design.
The street level café bar transitions discreetly from breakfast service as a hotel to a buzzy, stylish bar. Check-in reception pods are located to the rear of the space, with the café concept leading the sense of arrival. Concrete and aged timber floors create the beginnings of the contemporary palette, referencing both the Victorian and Post Aar eras. The use of subway tiles, metalwork and glass are a nod to the former industrial area. An eclectic mix is seen throughout the mid-century styling of the furniture, the fixtures, and the lighting.
Happy Endings The Results
Balancing heritage with contemporary design, the hotel embraces a strong sense of local identity."