Over the last two years, the hotel industry has been forced to innovate, pivot and make lightning-fast decisions based on a slew of new developments and restrictions. Now, as many of these restrictions continue to lift, hotel brands are able to take stock and assess what their next steps may be. 
Extended-stay hotels and short-term lets proved to be resilient during the pandemic, as those who did travel sought accommodation that would allow them to minimise their interactions with others. Some of the larger hotel names are responding to this by increasing the scope of their extended-stay brands. For example, Marriott currently has 198 new Residence Inn properties in development which equates to over 24,000 rooms. Other hotels are opting to incorporate some of the most desirable aspects of the short-term let into their suites to offer an experience that meets the requirements of the post-pandemic traveller.
Here we explore the ways in which the hotel room is evolving and the industry is adapting in response to the changing needs and desires of travellers around the world.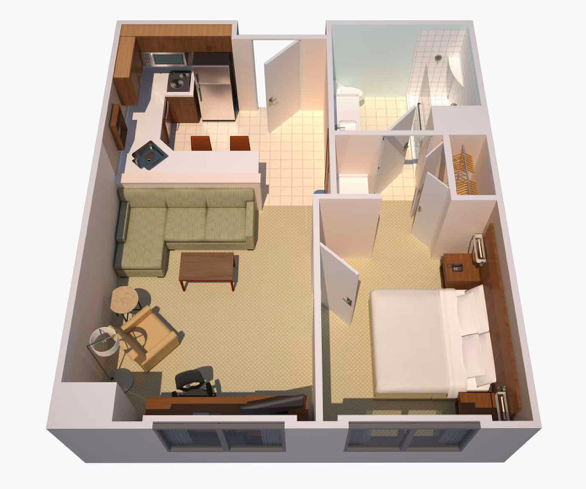 From Short Break to Short-Term Rental
Like many hospitality trends, the rise in popularity of extended-stay properties has, in-part, been driven by the Covid-19 pandemic. However, a 2014 study on 'The Changing Business of Extended-Stay Hotels' from Homewood Suites by Hilton + Skift, notes the increase in demand for this kind of accommodation some eight years ago. This, combined with the global success of short-term let companies like Airbnb, suggests that this shift has been developing for quite some time. 
There are numerous reasons for the popularity of hotel suites that facilitate extended-stays. Business travellers who commute to other parts of the world or temporarily relocate for projects, have long favoured this kind of accommodation and now there is a new kind of "bleisure" traveller who may also seek the convenience and comfort of a suite. While the digital nomad is not a new concept, the success of pandemic remote working has contributed to a surge in work from anywhere (WFA) policies. This further blurs the lines between travelling for work and for pleasure and may increase the need for hotel rooms that are suited to several different functions.
Hotel suites and rooms with additional facilities are also popular among those travelling purely for enjoyment. The additional space provided by a suite can make for a more comfortable stay, while cooking facilities offer convenience and reduce the need to eat out. Suites can also be particularly useful for families who need more room and may wish to limit the disruption to the routines of smaller children.
Extended-stay properties are not only appealing to guests, they also hold significant advantages for hoteliers and investors. Hotels of this kind typically experience less volatility and rely less on seasonal demand making them a more stable prospect after two highly unpredictable years for the hospitality industry.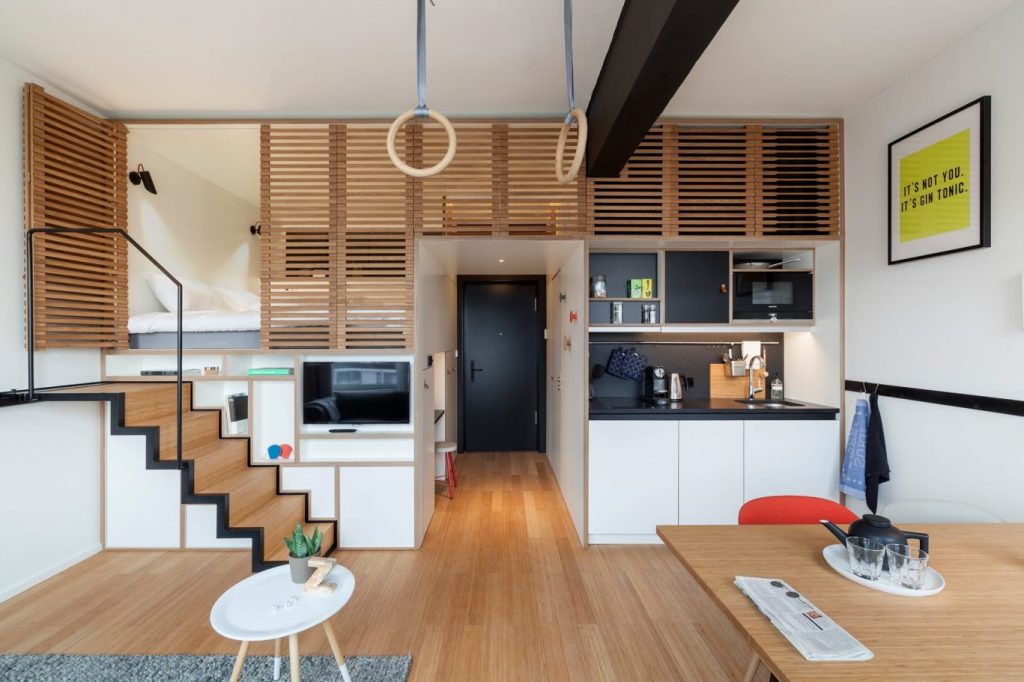 Making a Hotel a Home-From-Home
From heightened privacy to more spacious accommodation, for many travellers, the appeal of the short-term rental may lie in the home-like comfort and convenience it can offer. Kate Mooney, founder of OCCA, says, "Although the main pandemic restrictions are now, hopefully, behind us, some travellers still prefer to be self-contained when they're away from home. While this trend may lessen over time, some hotel brands are taking action to meet this need by developing their suites and giving guests the choice and convenience associated with rental accommodation."
Eating and Drinking
One of the main differences between a standard hotel guest room and a suite is the inclusion of a kitchenette and dining area and this appears to be a driving factor in the popularity of this kind of accommodation. A 2021 study by Skift + Oracle Hospitality found that 53% of travellers considered a kitchen to be one of the most important features when deciding to stay in a short-term rental property instead of a hotel. 
"Incorporating kitchenettes may be a good place to start for brands looking to close the gap between hotel accommodation and short-term rentals," says Kate. "Having the option to prepare meals is highly appealing as it allows guests to reduce their contact with others as well as their spend on dining out. Cooking facilities also enable travellers to cater to specific health or dietary requirements and remove the limitations of set breakfast or dinner times – something that can be particularly helpful for shift workers or those travelling with young children."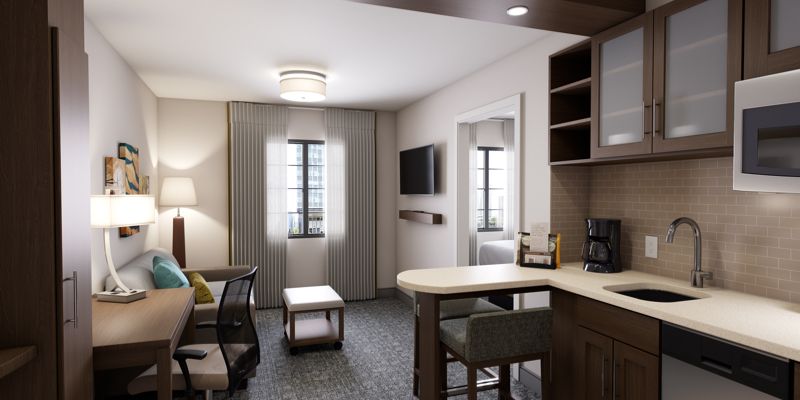 Improving In-Room Services
In order to compete with the rising popularity of serviced apartments and short-term lets, some hotels may opt to furnish their suites with additional in-room services. Inspiring examples include Hilton's Five Feet to Fitness programme, which brings the equipment right inside the hotel suite and removes the need to hit the gym. Similarly, the suites in the W in San Francisco come complete with a wet bar and all the ingredients and instructions you need to whip up a top class cocktail – no mingling required.
"From basic amenities like laundry facilities and a workstation to upgraded services, well-equipped suites give guests the luxury of choice," says Kate. "Some guests may prefer to work, rest and play in their rooms and this makes it possible, without having to compromise." 
Pet-Friendly Stays
Longer term stays may mean that the whole family comes along – even the four-legged members. "Not so many years ago, dogs in hotels were quite a rare occurrence but now many brands are welcoming pets with open arms," says Kate. "This is partly in recognition of the fact that, for many people, pets are part of the family, but it's also a way that brands can close the gap between hotels and short-term rental accommodation."
While some hotel brands simply allow dogs, others go further by offering dedicated programmes that ensure pooches and pets are as well looked after as their humans. For example, Element Hotels runs a Love That Dog programme which guarantees a signature pet bed, food, water bowl and clean-up supplies are included in the suite.
Enhanced Health and Hygiene
While some hotels are enhancing their suites or investing in extended-stay properties, others are developing their points of differentiation in order to underline the benefits that come with choosing a trusted brand. "Hotels offer lots of excellent guest benefits including security, friendly staff and luxury amenities and some brands are elevating these in order to compete with the appeal of short-term rentals," says Kate. " The need for improved hygiene is a lasting legacy of the pandemic and while the cleanliness levels of traditional short-term lets may not be guaranteed, this is one of the key areas in which hotels can offer guests greater peace of mind."
The 2021 study by Skift and Oracle Hospitality found that 65% of hotel executives are implementing new hygiene and cleaning procedures to compete with short-term rentals. Many hotels have deployed rigorous cleaning standards that ensure every effort is made to prevent germ transmission. Programmes such as Marriott's Cleanliness Council and Hilton's CleanStay provide compelling reasons to opt for a hotel with stringent standards when looking for accommodation that inspires confidence around cleaning.
As well as enhanced cleaning protocols, hotels have also been quick to adopt contactless technology that not only allows guests to enjoy a seamless and personalised experience, but limits face-to-face interaction. Whether guests want to check-in, order dinner or request an extra pillow, cutting-edge in-room and app technology makes it possible without them having to leave the comfort and safety of their suites.
As we move towards the new normal and the dust settles on the past two years, hotel brands continue to reassess and re-evaluate the needs and wants of their core demographic. While the landscape may continue to shift, through a combination of insights, cutting-edge technology and guest-centric design it is possible to create properties that exceed the expectations of guests while ensuring their safety and wellbeing.
Let's talk about you…
If you're looking for some ideas or advice for your hotel property, we'd love to help. Contact the OCCA Design team and we can discuss your next steps and how we can help you take them.