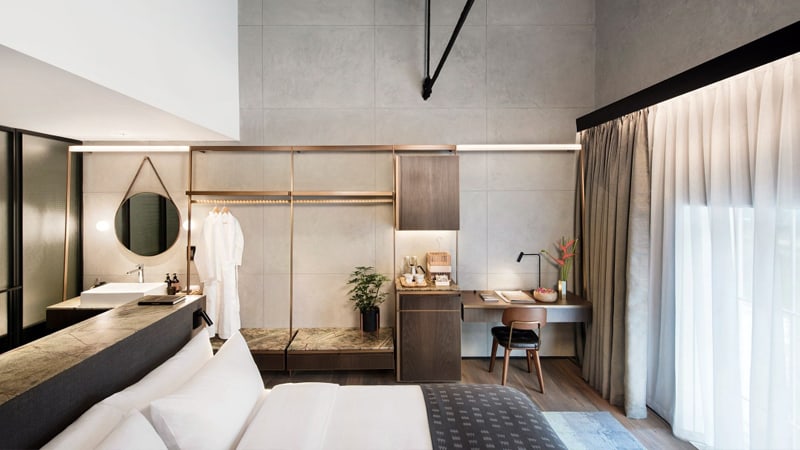 Hotel design is a complex process that considers a number of important challenges to ensure that the mixed-use spaces work well for both operators and their guests. Logistical, practical and aesthetic problem solving are all key to delivering a successful hotel project, however, it is also crucial that we have our fingers on the pulses of the ever-developing trends within the industry – and by that, we don't mean the Colour of the Year Trends!
From considering the changing needs of the millennial generation to incorporating the latest technology within interiors, here are five of the key hotel design trends we are working around in 2018-19.
1. Hotel Design and The Sharing Economy
Since the launch of Airbnb in 2008, we have seen a marked change in the way people are booking and connecting with their travel accommodation. This shift, which is particularly significant among the millennial generation, is now beginning to have a significant impact on the world of hotel design.
Today's traveller is in search of an experience and the chance to immerse themselves fully in the country they are visiting. From local textiles to natural materials that truly reflect the history and heritage of the country or city they are located in, the desire to feel an authentic connection to the region is the impulse behind what is fast becoming one of the biggest hotel design trends in 2018.
Hotels such as Katamama in Seminyak, Bali have taken this to heart and have been designed to incorporate traditions and support local craftsmanship to give all who stay there a deep understanding of the region. Featuring hand-pressed bricks, locally produced batik and teak furnishings, this hotel is a celebration of artisan crafts and the very culture of the surroundings.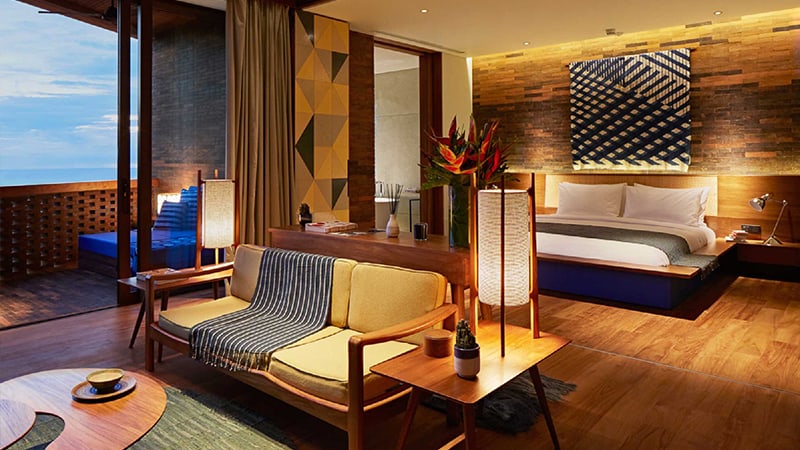 2. Communal Living
Ian Schrager, co-founder of Studio 54 and celebrated hotelier has been examining some of the other impacts of the rise of Airbnb and millennial living. "For some reason, the hotel industry in general is in denial about Airbnb," he said in an interview with Dezeen, "I think the only way is to come back with a stronger idea than Airbnb." And he seems to have done so with the launch of Public, New York which offers, "all the comforts of home, but better." Aiming to provide luxury at a pared down price, Schrager explains that this new generation of hotel is designed with the aim of going one better than the Airbnb experience, "The thing to do is those things that Airbnb won't be able to do, which is communal and social aspects of staying in a hotel, and all the other exciting entertainment that we can offer that they can't."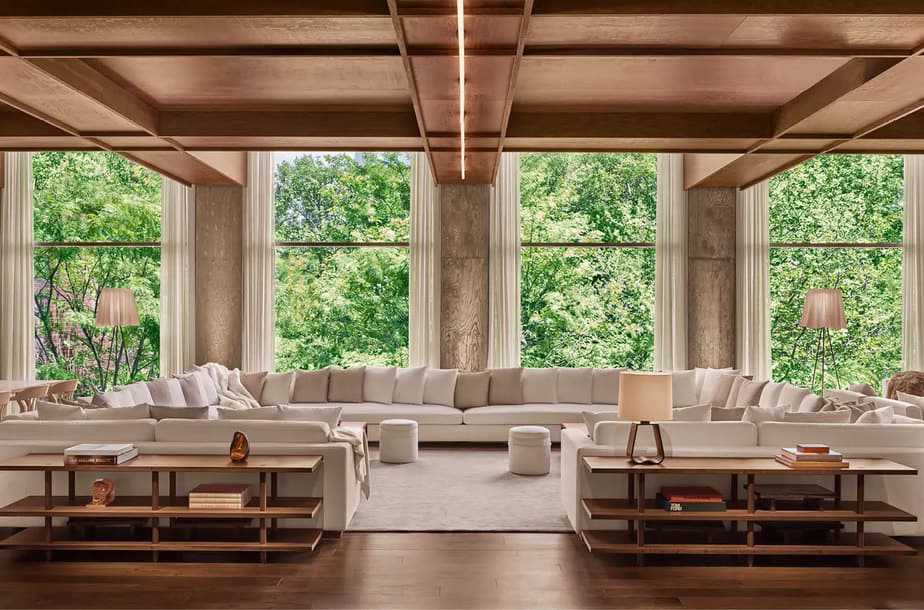 This idea is manifesting itself as some of the most exciting and stylish communal spaces that have ever existed in hotel design. From laid-back lobbies that invite guests to relax and socialise with each other to chic co-working spaces that facilitate today's blurred lines between the office and leisure time. At Public, the check-in desk and bell boys have been done away with in favour of a digital check-in process and a stylish bar , while the citizenM hotel chain has created a series of enticing spaces that are designed to bring guests out of their compact rooms and into the hubbub.
"Millennials traveling alone have a propensity to be more interested in some kind of public, shared space," says Bjorn Hanson, clinical professor at the New York University Jonathan M. Tisch Centre for Hospitality and Tourism. And, with the millennial generation making up a third of all hotel guests throughout the world – these are needs that cannot be ignored.
Indeed, some hotels are even looking to hostels to inspire their design updates with traditionally 'hostel' amenities such as shared kitchen areas that allow guests to create their own meals using local produce and communal laundry facilities appearing.
3. Affordable Luxury
Whether guests are travelling for recreation or are working remotely, the need for stylish yet functional communal spaces is clear. This change in hotel design trends means that the size of the rooms themselves can reduce along with the need for in-room desks and other individual amenities which, in-turn, may help to tackle another problem posed by the rise of Airbnb, namely, the price of luxury.
With Airbnb often offering a significantly reduced price tag for stays in superior accommodation, some hotels are looking at ways of bringing down the average room price. Public is leading the way on the affordable luxury front and is pioneering a number of new hotel design trends including the removal of traditional room service and retaining only the features that are truly important to today's hotel guest. "We don't have bellmen, because everybody has suitcases on wheels," says Schrager. "We cut out all those costs, and pass them onto the customer. But we're not dumbing down or cutting down the level of sophistication. We're just cutting out the things that people don't care about. Gold buttons, gold epaulettes, fine bone china."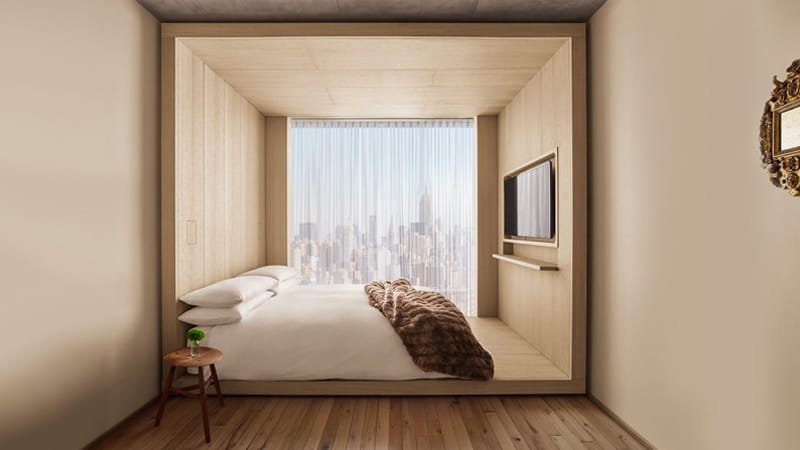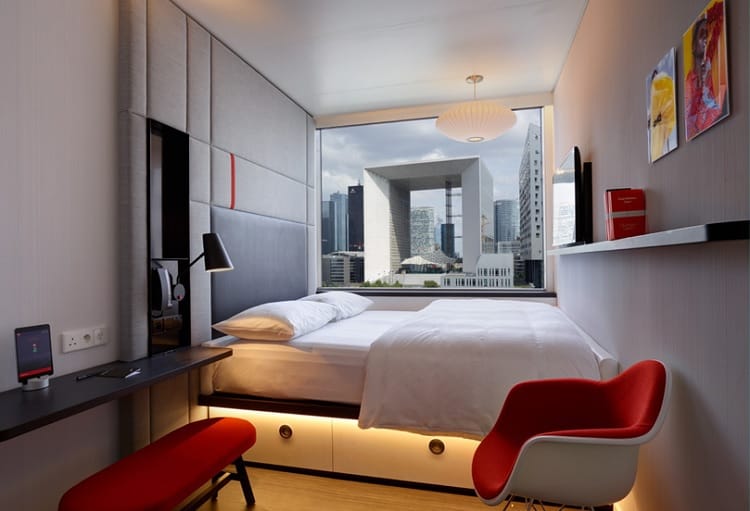 4. Smart Hotels and Technology
Perhaps the most important hotel design trend for 2018 relates to the integration of cutting edge technology within hotel rooms and receptions and much of this technology is centred around putting the guest in the driving seat.
No longer are giant key fobs that have to be dropped off and collected at reception working with travellers' style. To truly tap into the home-from-home experience and create the immersive stay that everyone craves, the hotel is providing the guest with a feeling of ownership of the space – even if it is only for one night.
As well as enabling guests to check-in before they have even arrived and unlock their rooms with their Smartphones, technology is also on the verge of allowing people to pre-select the specific room they would prefer to stay in and text additional requests to staff to ensure the most personalised experience yet.
Reports also suggest that the Smartphone will soon become the heart of the hotel stay with everything from the television channel to the temperature and lighting being controlled remotely, giving guests the power to customise every aspect of their stay.
Some of the hotels that are harnessing technology to create the most streamlined experience possible include Yotel in New York where a robotic baggage handler is available to process and store your luggage if you arrive early for your stay. Another New York hotel, the Renaissance Midtown offers an interactive screen called the Discovery Portal, that helps to create that truly local experience with everything from dining suggestions to insider tips to ensure guests make the absolute most of their time in the city.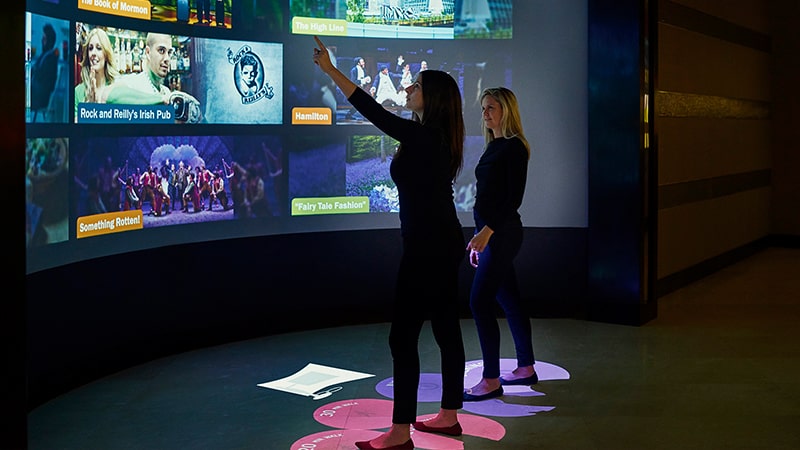 5. Instagram and Hotel Design
As we identified in a previous post, Instagram has become an increasingly important tool for choosing the perfect hotel for a trip, particularly among the millennial generation. This means that creating a space that compels the social media savvy to snap and share photos of your hotel's interior is not only an important design decision, but a smart business move too.
In 2017, Instagram crowned the Marina Bay Sands, Singapore the world's most Instragrammed hotel, largely owing to its impressive 57th floor rooftop infinity pool. This social media attention means that the property has appeared in the eye line of an enormous captive audience without a single marketing penny being spent.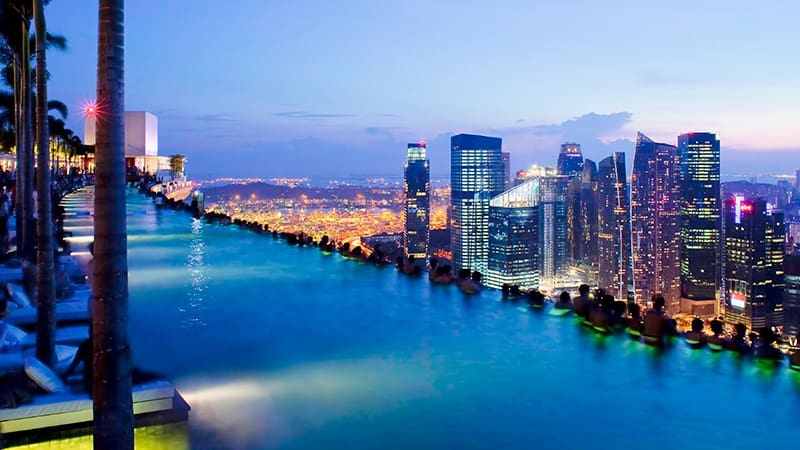 However, creating a great design and  Instagram-worthy space doesn't have to mean installing wildly expensive design features – it can be much more subtle than this and many hotels are grasping this design trend. Take the SP34 Hotel in Copenhagen for example, this luxury bohemian boutique is a hotbed of simple but practical and super stylish Scandic interior touches and of all things, it is the striking design of the headboards that have earned this hotel acclaim across the social media channels. This kind of clever interior detailing has become a major hotel interior design trend and adds so much more than just an elegant focal point.