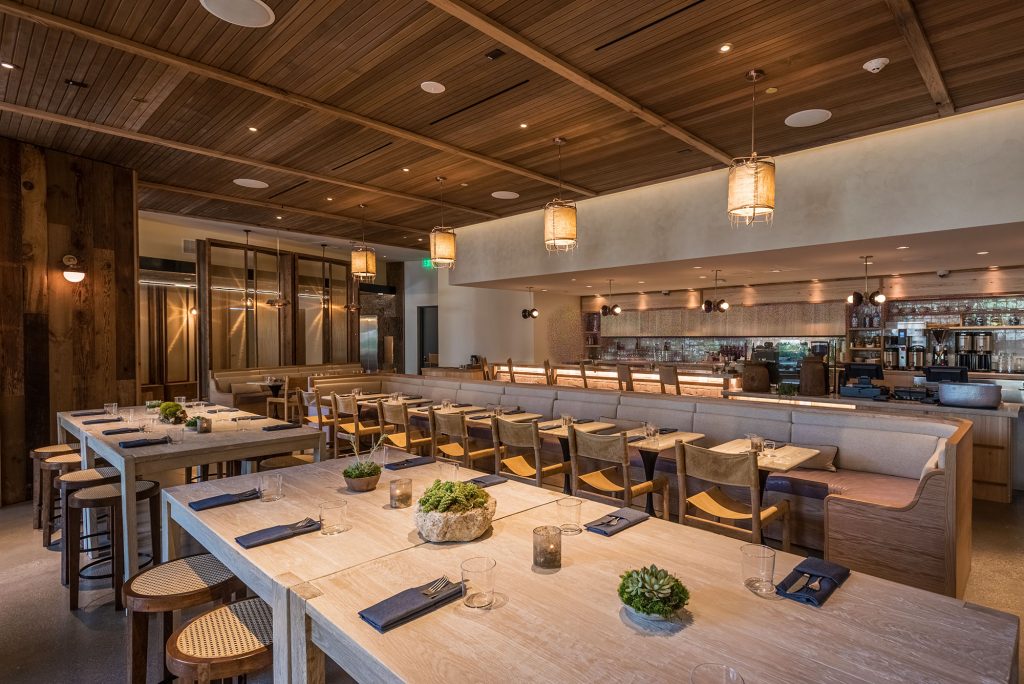 It's impossible to overstate the impact the Covid-19 pandemic has had on the hospitality industry, with hotels being among the hardest hit. PwC forecast that recovery could take as much as four years and that hotel rooms would be occupied for an average of 45% of the time during 2021 – a drop of 21% from 2018.
In spite of this downturn, the industry has been quick to develop alternative revenue streams, particularly in food and beverage. While many of these changes are temporary, there's no doubt that some of the ground-breaking updates to hotel wining and dining are here to stay. From sleek restaurant design to local sourcing, we explore some of the hotel bar and restaurant trends for dining post-Covid-19.
01. Innovating and Evolving
The abruptness and severity of the Covid-19 pandemic stopped the hospitality industry in its tracks. However, many hotel brands took swift steps to update their offering and transformed their bars and restaurants into takeaways with a difference.
From collecting a negroni to go at The Berkley's drive through to recreating the Michelin star experience of L'Enclume at home, the hotel industry has proved to be agile and innovative.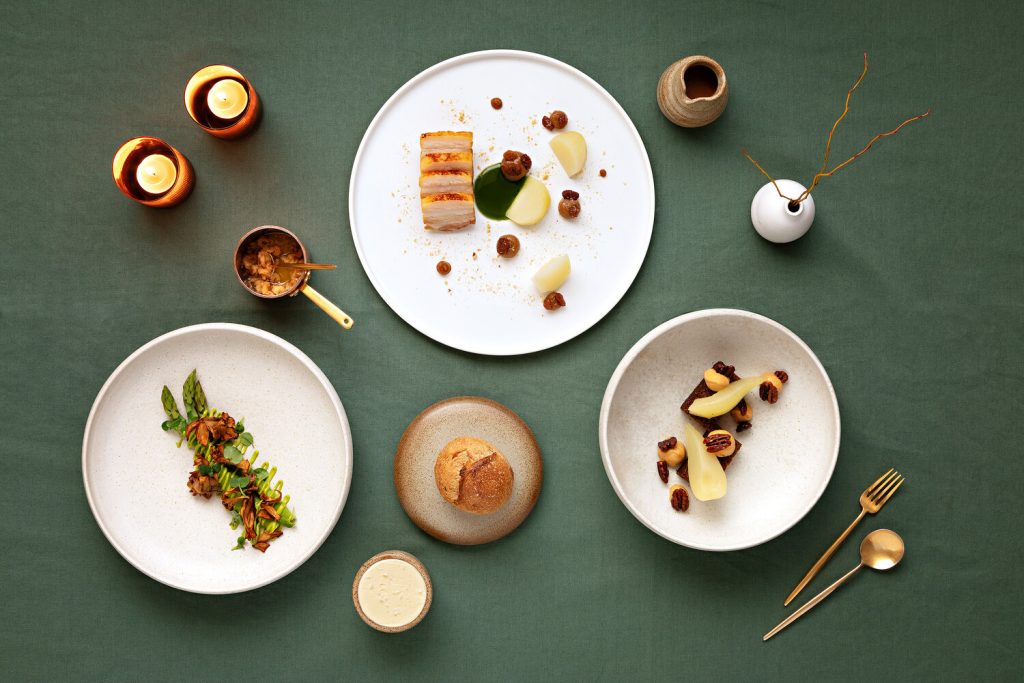 Although eating in restaurants will gradually return, it's likely that alternative options will be here to stay when it comes to dining post-Covid-19. Preparing for this trend, Glasgow-based chef and restaurateur Nico Simeone has invested in creating a permanent at-home platform, Home-X, to run alongside his chain of eateries. As well as providing restaurant-quality food at home, Home-X also offers wine and cheese clubs to complete the culinary experience in your own kitchen.
02. Health and Hygiene
As is the case with guestrooms and public areas, cleanliness will be front and centre when it comes to eating and drinking in hotels post-pandemic. Research carried out by restaurant review site Zagat found that three in four diners cited health and safety concerns as the biggest deterrent to dining out following Covid-19. Statistics like these highlight the need for hotels to reassure diners that they are doing everything possible to create a safe and hygienic environment.
As well as a rigorous and visible cleaning regime and permanent hand sanitiser stations, a move towards single-use menus and even silverware could become the norm. Meanwhile, the traditional trappings of fine dining such as linen tablecloths and leather-bound wine lists may have lost their appeal in favour of items that are easier to disinfect.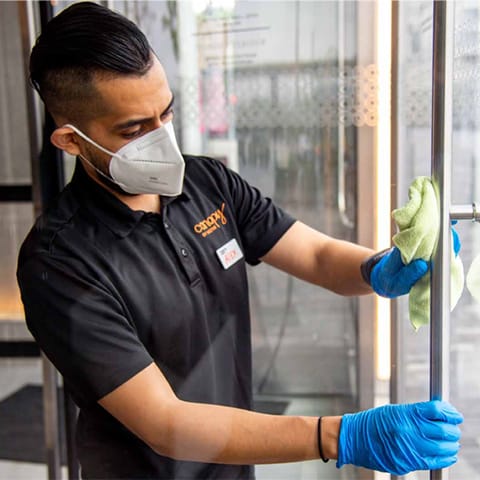 Minimalist spaces that are practical as well as appealing and materials that can stand up to regular cleaning will be incorporated into hotel restaurant and bar design.
"We're going to see a surge in Antimicrobial Technology and its applications in the coming months," predicts Kate Mooney, Founder of OCCA. "The "always-on" nature of these substances and additives will create essential protection against viruses and become commonplace in the materials and finishes we specify for our hospitality venues."
"Communication and transparency in relation to cleaning technologies and sanitation will be essential in building guest and staff confidence."

Kate Mooney
Digital technologies have also become more central to the hotel experience over the last few years and the Covid-19 pandemic is likely to see this accelerate in hotel restaurants and bars.
Having spent the pandemic ordering food online, diners are more familiar than ever with app-based menus and hotels can embrace this trend. From booking and review apps to digital bills that can be paid directly from your phone, software such as Bizzon not only reduces face-to-face contact but could help to boost food and beverage revenue.
"Mobile F&B allows for increased guest flexibility, as they can order food from the comfort of their room or on-site facilities, like a spa," says Steve Brown, CEO of accesso Technology Group. This increased convenience creates more opportunity for guests to order drinks and snacks and provides the opportunity to upsell. "Research also shows that guests may order up to 20% more when given the option of mobile ordering," adds Steve.
03. Embracing Space and Nature
Although restrictions are now easing and we're hopeful that the virus can be controlled more effectively, it's likely to be some time before bars and restaurants go back to being the relaxed, crowded spaces we remember.
"Identifying and easing areas of congestion in hotel bars and restaurants is the first step to creating a stress-free guest experience," says Kate. "From a design perspective, we're rethinking circulation. Crowded waiting areas and tightly packed tables are being replaced by a reduced density of covers and more open spaces that facilitate the easy flow of guests. We're exploring creative ways of zoning spaces using fixed seating and more booths and looking at better alternatives than plexi-screens in order to design spaces that feel stylish and personable, not sterile."
"Biophilia is also playing a key role in our work to reduce stress and anxiety for guests," continues Kate, "plantlife contributes to building environments that are calming and appealing by creating focal points, screens and natural separation within public spaces. This also taps into our human instinct to forge a direct connection with nature."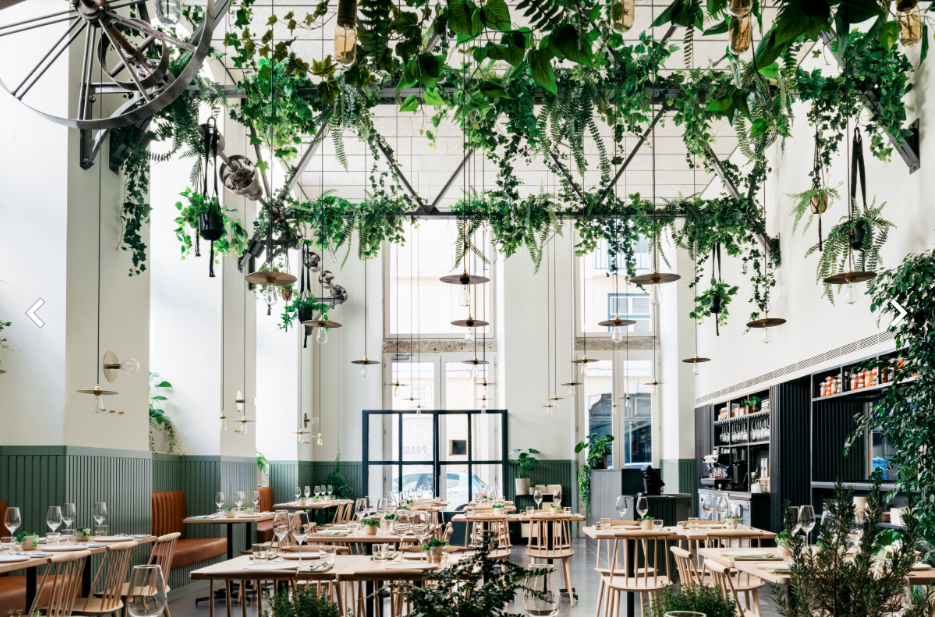 04. Acoustic Design
Noise level restrictions were put in place in hospitality venues during the pandemic in order to limit the spread of the virus. Although these restrictions will ease, acoustic design is another area that may be revisited in order to reduce the need for diners to raise their voices or lean close to each other.
Booth seating and materials that have been engineered to absorb sound, such as acoustic plaster, will help to create quieter spaces and could contribute to guests feeling more confident about hotel dining post-Covid-19.
05. Alfresco Dining Post-Covid-19
Socialising outdoors has been a big feature of the Covid-19 lockdown. Psychologically and physiologically, post-pandemic guests are likely to feel more comfortable gather alfresco when dining post-Covid-19.
Many hotels have been busing outdoor space creatively to give guests the option of eating, drinking and socialising outside. For example, The Fontaine Hotel in Kansas City introduced igloo pods to create individual outdoor dining areas while The Hassler Hotel in Rome relocated its Imàgo restaurant to the outdoor terrace of a seventh-floor suite.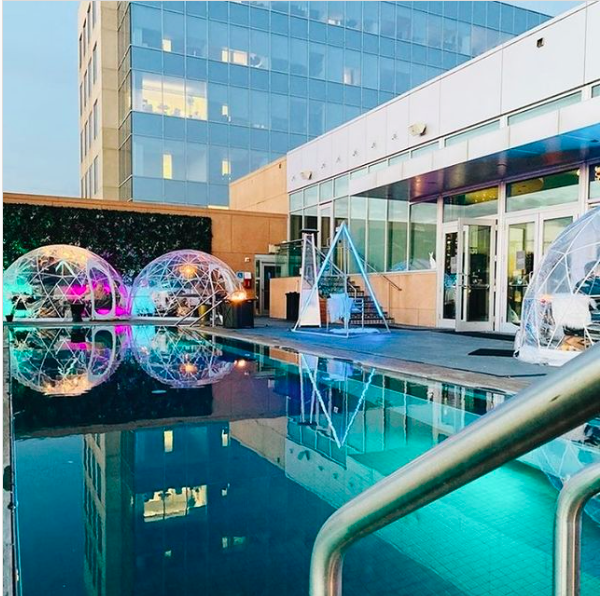 As well as putting guests at ease, this repurposing of outdoor space can help to make up for the reduced number of covers in the interior bars and restaurants.
"We're encouraging clients to invest in a more holistic consideration of the design of their public spaces post-pandemic," says Kate. "In our designs, we're blurring the lines between the indoors and outdoors across a property wherever possible to create more outdoor spaces including courtyards, terraces and roof gardens."
06. Bidding The Buffet Farewell
A decadent breakfast is a salient part of the hotel experience for many travellers and it doesn't get much more indulgent than an expansive buffet. However, there has been much discussion around the future of this hotel staple with many speculating that the pandemic has firmly consigned the buffet to the past. "Working closely with global hotel brands on new hotel prototypes during the Covid-19 pandemic, we're not anticipating a dramatic rejection of the buffet long term," notes Kate.
While restrictions remain in place, some brands have moved to prepackaged or preplated meal options that offer a more "grab-and-go" take on dining. "Other dining options will gradually be re-introduced. We're hopeful that, with some health and hygiene provisions, the communality of a traditional breakfast buffet will eventually feel safe and comfortable for guests once more".
07. Living Locally
The early days of the pandemic saw supply issues cause difficulties for many restaurants, bars and hotels as demand for many products spiked and shipping delays were widespread. This, coupled with a heightened interest in supporting local businesses and the importance of community, may have a long-lasting effect on dining post-Covid-19.
Locally-sourced produce and local partnerships are not only beneficial in terms of stimulating the economy close to home, but can also help the guest to connect with the place they are staying. "I greatly believe that F&B in hotels will start becoming more connected to local communities, especially street food culture, giving guests the opportunity to enjoy a genuine taste of each respective destination," says  Jean-Michel Dixte, Global Vice President of Food & Beverage for Dusit International.
08. Brand Security
It's predicted that UK hotels will feel the economic after effects of the pandemic for the next four years. However, hotel transactions and developments saw positive results throughout 2020 with Hilton reporting continued growth including a 30% increase in conversion signings.
This spike suggests that independent properties are envisaging increased security and a faster post-pandemic recovery as part of a larger brand. "Joining one of these brands changes the business model for hotel owners," says Gary Steffen, Hilton's Global Category Head, "They allow hoteliers to leverage Hilton's performance advantage with our 112 million Honors members, our Hilton brand.com owned channels and our group sales and marketing efforts."
Boutique and independent hotel brands have long been favoured for their one-of-a-kind charm but for some travellers, the pandemic may have highlighted the benefits of brand name hotels. With guarantees around cleanliness, flexible cancellation policies and rigorous staff training, big brands may offer increased confidence across every aspect of the hotel experience, including wining and dining.
Let's talk about you…
If you're looking for some ideas or advice for your hotel property, we'd love to help. Contact the OCCA Design team and we can discuss your next steps and how we can help you take them.