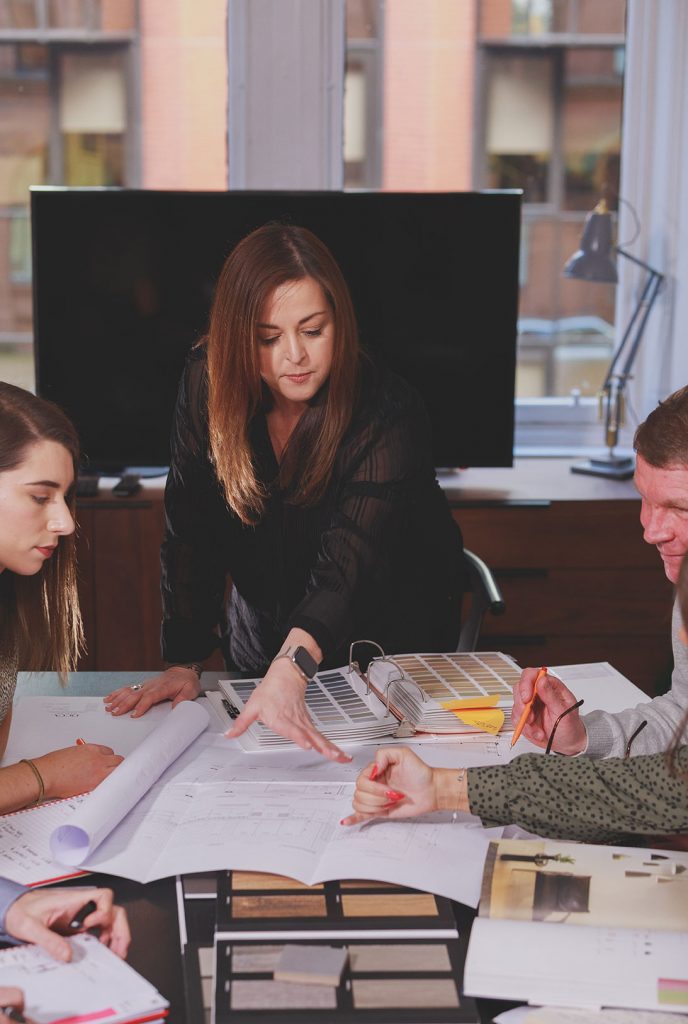 We're back with our second instalment of our Meet the Team sessions. In this one, we chat to Kate, Founder and Design Director of OCCA. We want to find out more about the dedication and passion that goes into developing a business like OCCA – so who better to talk to? With almost thirty years in architectural interiors, interior design and the digital technology sectors, Kate has a wealth of experience and a rich background in hotel and residential design.
She is a pro at finding great solutions to design and operational problems and loves nothing more than delivering successful design projects. In this interview, we find out what got her into the industry, how OCCA has evolved as a business and what she thinks it takes to succeed as an interior designer.
How did you get into interior design?
Kate:  I grew up very involved in our family business which was a textiles & contract furnishings firm established in 1971. We also ran retail stores & interior design showrooms over the following 20 years. Working in the office, factory and showrooms from an early age, I loved being involved in every aspect of the business. I particularly enjoyed being involved in the beautiful homes & hotels we worked on for our international interior design clients.
Leaving school in the late 80's, I planned to study interior design at university. However, after training as an Architectural Technician I decided to study architecture at the Glasgow School of Art | Glasgow University instead. My plan was to fuse my interior design & commercial experience with my degree in architecture and develop a different perspective in the industry.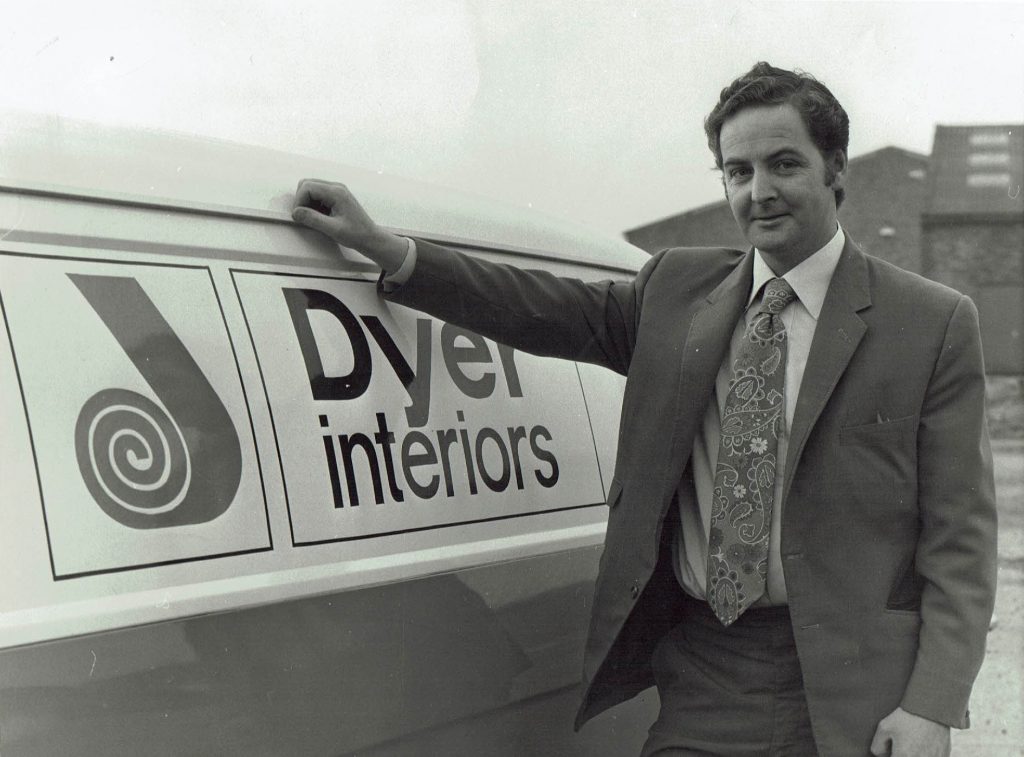 Tell us about your role at OCCA
Kate: Well, after graduating I went to work as an architectural-interior designer for hotel groups, restaurants, bars and architecture firms across the UK. In 2003, I took the decision to start my own design practice and founded OCCA Design. As a studio, we've always dared to be disruptive in the industry. This means we've continually evolved the business, so my role is all about leading that business growth and development, building an amazing team and ensuring our services are invaluable to our client's projects.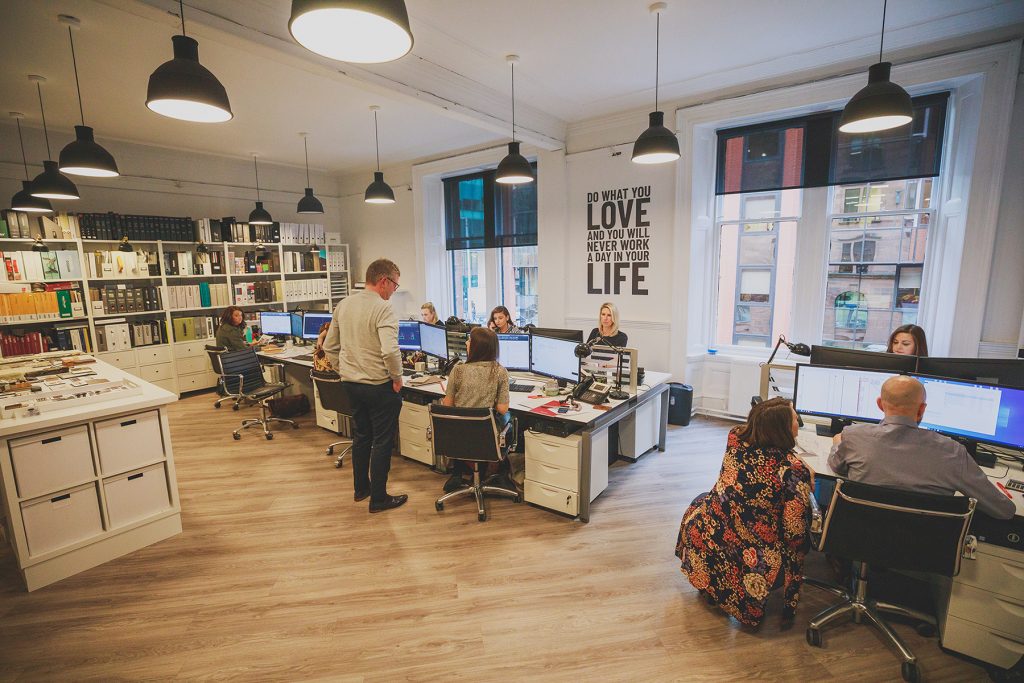 What's your personal design style and what inspires your design?
Kate: That's an interesting question. I think of design as a constant exploration and evolution and very dependent on the nuances of each project. Therefore I don't have a trademark style. Instead, I like to tell stories about the provenance, architecture, history or geography of the property through the interior design. I love timeless spaces that are stylish, comfortable and welcoming and I enjoy creating evocative spaces that layer light, colour & texture, often with modernist or contemporary furnishings.
As for inspiration, travel is probably my biggest inspiration, along with architecture, nature, trade shows and galleries. My Instagram feed is updated daily with images of beautiful interiors and locations from around the world, while design blogs and innovative new hotels are also excellent sources of inspiration.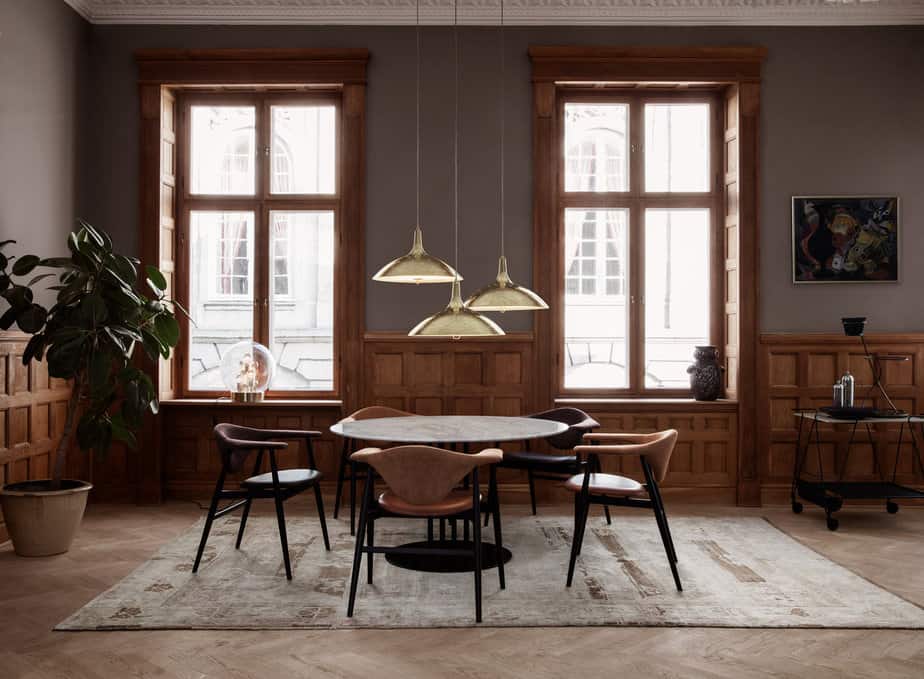 What are the key problems that OCCA solves for clients?
Kate:  Our clients are busy professionals, often running multiple projects and big budgets on tight timescales. They need to be able to trust their design team, not just from an aesthetic perspective but from a project management and commercial perspective too. Delivering great interior design is so much more than just achieving the right aesthetic.
So, first of all, we ensure that the design of the property meets all their expectations and aspirations. When you design any space, you want people to engage with it and to love it – that's a given.
The next problem that client's face is the project management and organisation of a job. This is where one of our key values, "Challenge Accepted" comes in to play. For us it's always yes first and how second – we love nothing more than a challenge.
Which is just as well, as when we're working on a hotel project or large-scale luxury resi project, there are many moving parts to coordinate and keep on programme. Therefore, having a lot of experience of similar projects and challenges on other projects really helps.
The third problem for clients is bringing everything in on budget and that's an area we are particularly strong in. Unlike many architectural interior studios, we don't just have FF&E experience. With our in house Procurement capability, we also have an extensive supply chain, skilled FF&E buyers and experienced project managers to ensure that we deliver the best possible products and design for the budget while adding value to the project.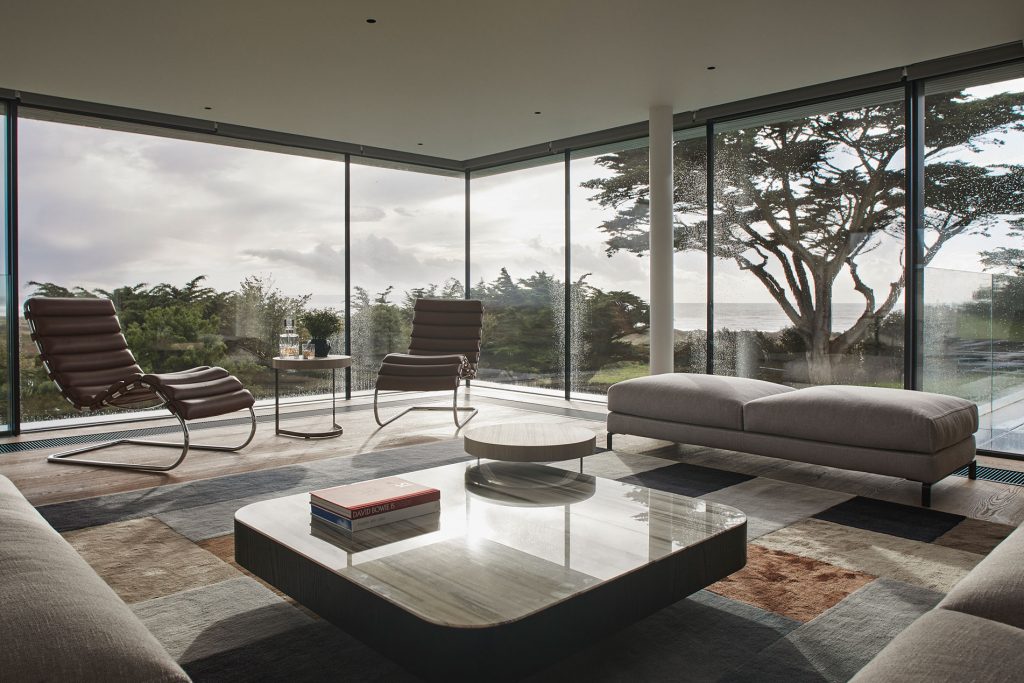 You talk about the OCCA difference - in what way is OCCA different to other design studios?
Kate: Having worked directly for hotels, bars and restaurants for a number of years previously, when I established OCCA, I knew the combination of design skills along with the commercial and very practical operational experience I'd acquired, would give us an edge. Nowadays, I'd say there are three key ways we stand out in what is a very busy design scene in the UK:
The first is our knowledge and expertise. Clients often comment on our personal approach & professionalism and love the difference the combination of our design flair, supply chain experience and operational expertise make to their projects. This focus on continually delivering exceptional services is core to who we are.
The second is commercial awareness. Clients appreciate our deep understanding of the importance of return on their investment and the value we bring to their projects from that perspective. They are typically surprised and delighted with the difference that makes to the overall success of their projects
The third is that we are not just creative, we are innovative at heart. Over the past 10 years, we've developed a reputation for harnessing technology to bring greater efficiencies and value to client's projects. With our Dare to Disrupt approach and our cloud-based apps, we are changing the way projects are run and can share real-time design, procurement and installation information across all our projects.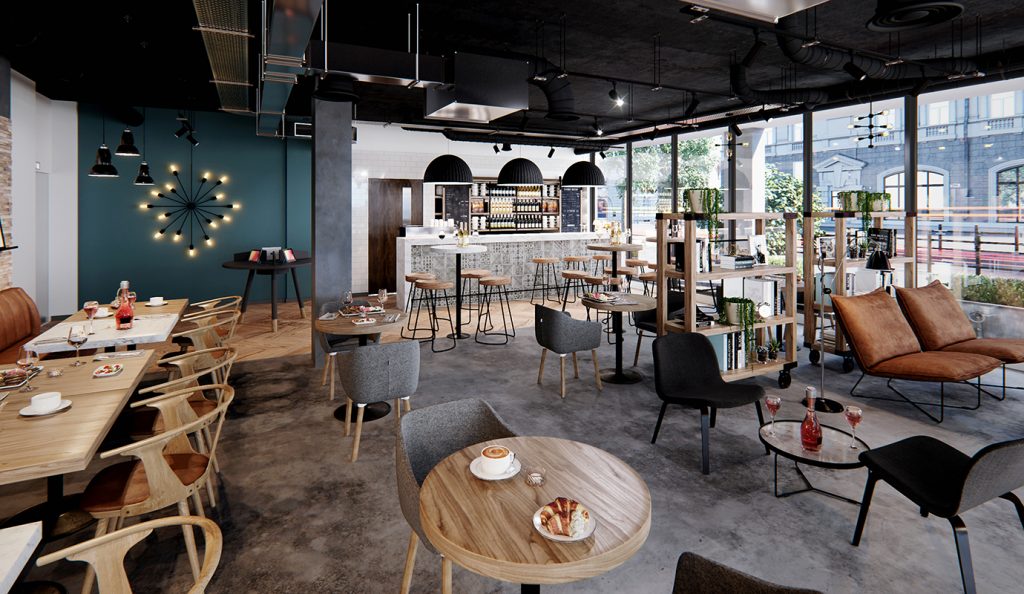 Since launching OCCA, do you have a favourite project that you have worked on?
Kate: I fondly remember Team OCCA's very first full-service hotel design project and the excitement of delivering the Crowne Plaza Hotel, London Docklands in collaboration with Young & Gault Architects & BDL Hotels back in 2003. This was a stunning design and a huge success for our first client, so I'll always have a soft spot for that particular project and design team.
That project then led to many others for the studio, including another favourite, the Holiday Inn, Spa & Conference Centre in Sofia, Bulgaria which was an extensive development and truly international project team. The interiors here have stood the test of time, so I'm really proud of that one.
Recently we've worked on some stunning, private, luxury residential projects in beautiful properties and amazing cities across the continents and these too have been really quite special.
In truth, there are many in between and there's too many to name. We're privileged to have worked on a wonderful variety of almost 400 projects over the past 17 years and a number of our clients have been with us throughout that time. We work with many amazing clients on their projects and each one of them is a standout for lots of different reasons.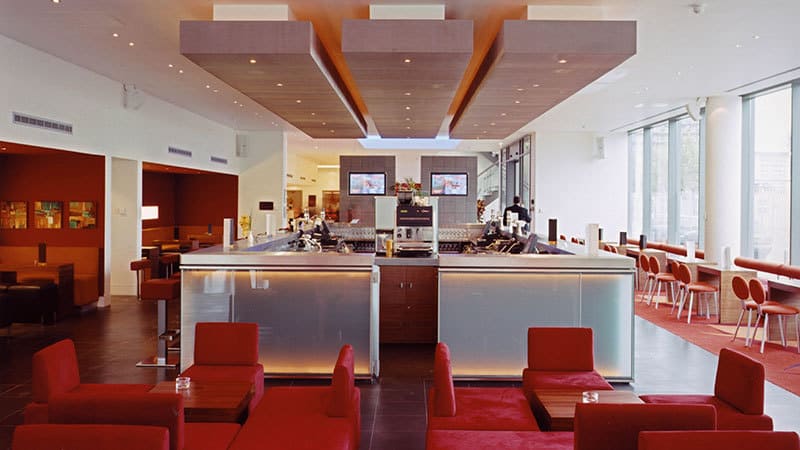 Do you prefer working on projects for global hotel brands or smaller boutique venues?
Kate: Great question – I love them both! Working with global hotel brands who are constantly evolving, such as Marriott and IHG, is a dynamic and exciting process that provides an opportunity to deliver large-scale projects in key cities for international hoteliers. It's a real pleasure to work on those jobs.
However, there is a joy in leveraging all that experience and being able to bring those key learnings to our boutique hotel clients. With smaller projects, we have the opportunity to create unique, inspirational interiors that are specific to their style and location.
It may sound cliché, but every project is exciting and rewarding in its own way. Being able to work to a grand scale, and then on a more intimate property makes our job so varied and rewarding.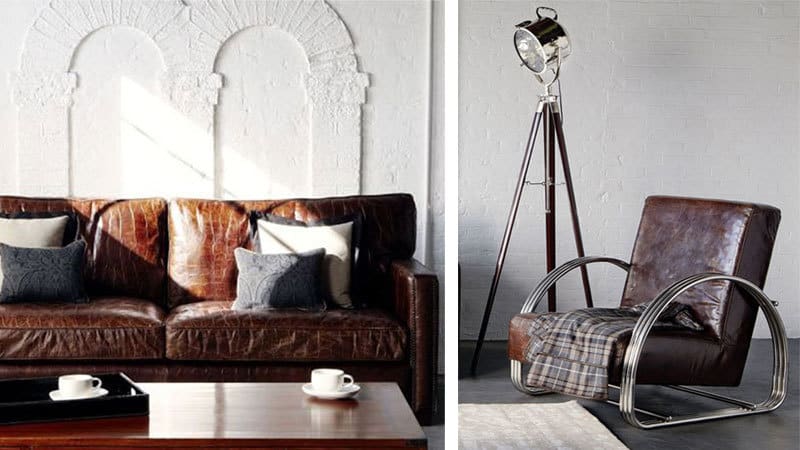 Talk to us about your passion for technology and design?
Kate: Blending my passion for design with my appetite for technology and innovation has revolutionised the way we run the design studio, our projects, and our supply chain. People don't normally associate artists and designers with tech, but tech is what's really opening up the world of design in an exciting, creative (and extremely productive!) way.
As a team, we were early adopters of 3D visualisation technologies and cloud-based project management tools to integrate & streamline our workflows. This enables us to personalise our services effortlessly and share real-time information with our clients.
In our design work, homes & hotels are becoming smarter as smartphones and digital technology develop at a rapid pace. This means that tech and IT are an integral part of the interior design, and now as much part of the design of a domestic project as they are a commercial one.
Always keeping an eye on smarter and more efficient ways to design our projects, my current fascination goes beyond BIM and is around augmented reality & virtual reality applications. I'm intrigued by the impact they're having on the design process. I mean… how exciting to design & build a property while you walk through it, watching it all evolve before you – long before it's even ready to go on site?!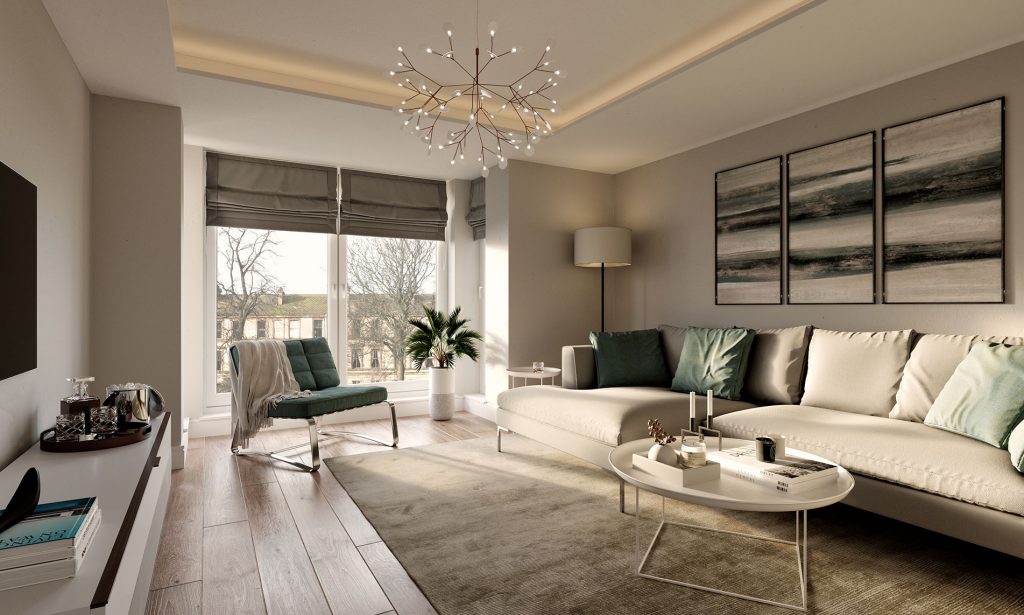 Why is it important for you to continue to disrupt the design industry?
Kate: Disruption is the key to being dynamic. By disrupting our own business model and creating an online interior design emporium in 2009, we not only navigated the financial crisis at that time, we were also instrumental in fundamentally changing the way in which the design industry was working, from shifting the way clients accessed products, to the ways in which suppliers could reach new customers.
Change always brings new opportunities, and that pivot enabled us to diversify and disrupt in what were very challenging times. We went on to create a global eCommerce company supplying 20,000 items of luxury furniture, lighting and home décor products from over 200 brands to over 30,000 customers in over 90 countries in 2015.
When we re-launched the OCCA Studio in 2016, we retained our core values, of using our extensive design knowledge and global supply chain experience to build innovative, responsive and creative new services for our clients.
We are continually challenging the way in which we and the industry are working to bring more choice, better efficiencies and better value to all our projects.
What do you think it takes to succeed as an interior designer?
That's another very good question and could be a whole other interview!
The interior design world is diverse, competitive and challenging. What it takes to be successful will surprise many people. My first piece of career advice is always, love what you do. That way it won't feel like work – and you'll be great at it.
On an individual level, it goes without saying that creativity is a core skill and one that must be nurtured and honed throughout your career.
A positive outlook and an upbeat attitude are key attributes that will make a huge difference to your relationships with clients and colleagues.
Critical thinking and the ability to quickly process and solve problems is also fundamental to working in design, while great communication skills – especially the ability to listen and pay attention to the detail, will help you stand out.
Being technically minded and adopting new technologies is important and something that many potential design students underestimate when thinking about a career in interiors. Being skilled in things such as building technologies and in using design software, for example, is essential.
For me, continual personal development is probably the most important commitment you can make to yourself and to being a successful interior designer. This industry, more than most, is continually changing and it's crucial to stay on top of what's going on and improve your knowledge, skills & capabilities.
On a business level, I believe that building a business that you truly believe in is fundamental. Being commercial, agile and super focussed on your clients is vital – while determination and resilience will see you through both good and bad times!
What's next for OCCA?
2020 has been a seriously challenging year for everyone – a time for reflection and resolve. Notwithstanding that, we're grateful to have worked on some amazing projects over the past six months. We're looking forward to more normality post-pandemic and are developing exciting plans and strategies for the studio through 2021 including luxury hotel & international resi projects.
Curious to find out more about life at OCCA? Join the Design Team as they reveal all about their design process, great projects, working with clients and life in the studio.
Or why not pop in on the Procurement Team as they discuss working on all things from sourcing products and managing budgets & finance to arranging complex delivery logistics across the globe>