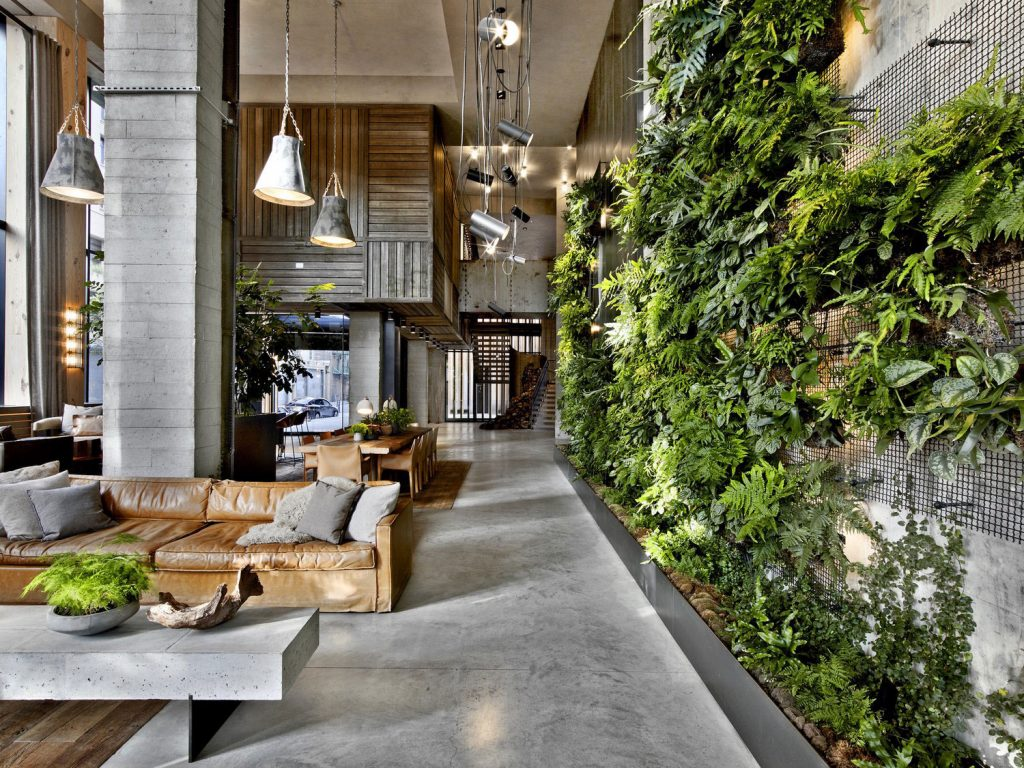 The Covid-19 pandemic has dominated the hospitality industry over the past two years as  lockdown and worldwide restrictions forced bars, restaurants and hotels to diversify in order to survive. In addition to impacting core business strategies, the pandemic also caused many venues to make significant changes to their layouts and interior design to create compliant spaces that inspired confidence in their guests. Although restrictions are now easing, our trend forecasts for 2022 predict that some of these design changes are here to stay alongside further innovations that fit with our new normal. 
The pandemic is not the only global issue that is set to influence hotel design trends in 2022. Glasgow's COP26 summit in November 2021 served to bring the climate crisis to the fore and reinforce the message that we must act now if we are to achieve the goals laid out by the conference. This has led to a move towards more sustainable design and materials as well as a focus on energy efficiency within hospitality projects.
Here we explore some of the key hospitality design trends for 2022 and how they are being incorporated into projects around the world.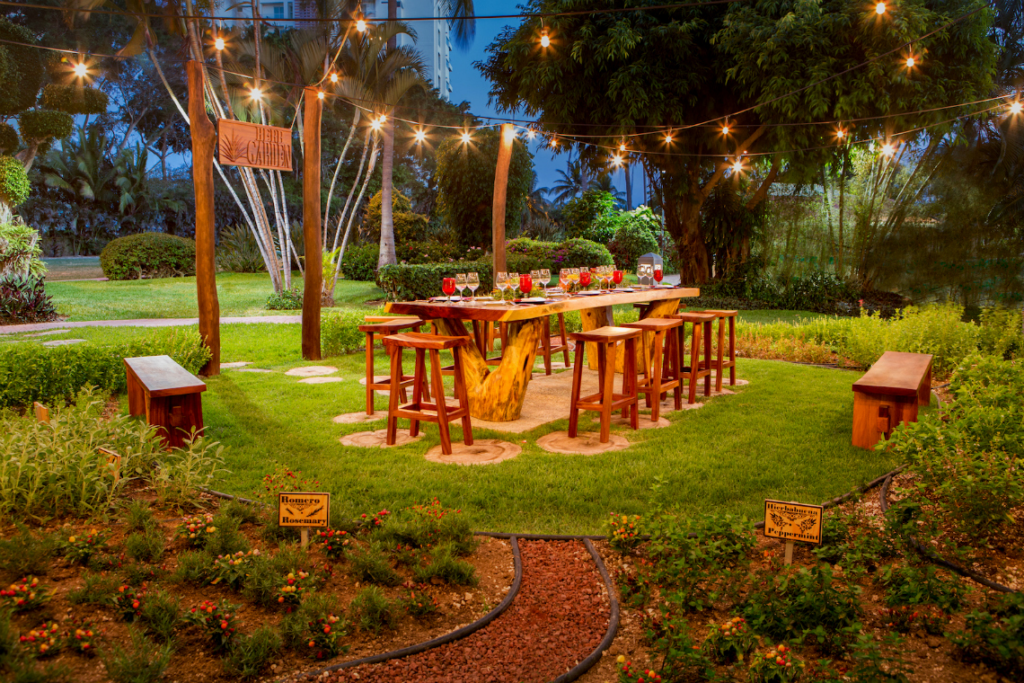 The Great Outdoors
The Covid-19 pandemic led to outdoor hospitality spaces becoming premium real estate as socialising al fresco became the preferred option. This trend towards outdoor drinking, dining and entertaining is set to continue into 2022 as hotels create spaces that are luxurious and comfortable as well as functional all year round. From designer heaters and retractable rain covers to rustic fire pits and hygge-inspired faux fur blankets, many venues have designed weatherproof outdoor spaces that are as desirable in the depths of winter as in the height of summer. 
"Over the last two years, outdoor space has been crucial for hotels and this is still an area we're seeing many hotel brands invest in," says Kate Mooney, OCCA's founder and design director. "Outdoor spaces are now being given the same level of design attention as interiors with lighting schemes, artwork and stunning furnishings to make them feel inviting and opulent as well as safe. Some hotels are even creating outdoor work stations at the pool or beach to ensure that everyone's needs are catered too."
Interestingly, while interior elements are being brought outdoors, many hotels are also bringing the outside in. "Biophilic design elements and interiors with raw, organic roots are serving as an antidote to too much time spent indoors and tap into the mental wellbeing benefits of being in nature," says Kate. "An earthy colour palette, unengineered finishes and an abundance of plant life are all key to developing this trend while outdoor-inspired acoustics such as bubbling water fountains help to bring these looks to life."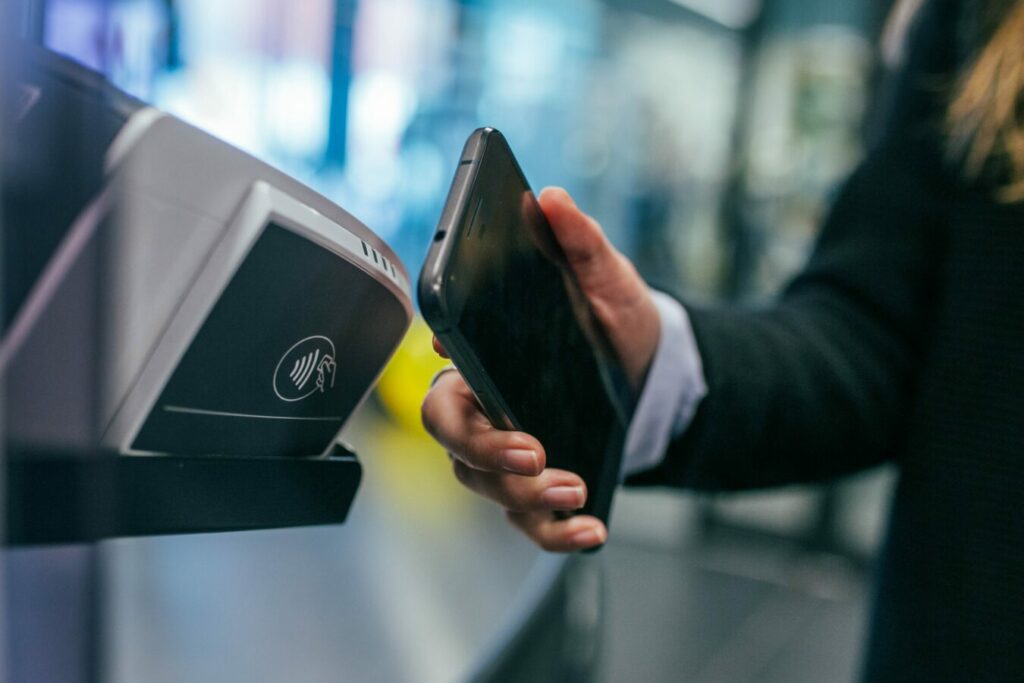 Hotel Technology Trends for 2022
Technology was becoming an essential part of the hotel experience long before the pandemic struck, however Covid-19 served to escalate its adoption and this shows no sign of slowing in 2022. Pre-pandemic, the smart tech that was being developed for use in hotel settings was largely focused on comfort and personalisation. Now however, the emphasis is on cleanliness and creating a contactless experience that gives guests complete autonomy over their stay. 
From controlling the music and lighting in their room before they even get inside, to calling lifts with their smartphones, the contactless possibilities of guest-focused technology are constantly expanding. Technology that is more commonly associated with medical settings such as advanced air purification systems and self-cleaning surfaces is also being harnessed in some hospitality venues to give guests and staff greater peace of mind.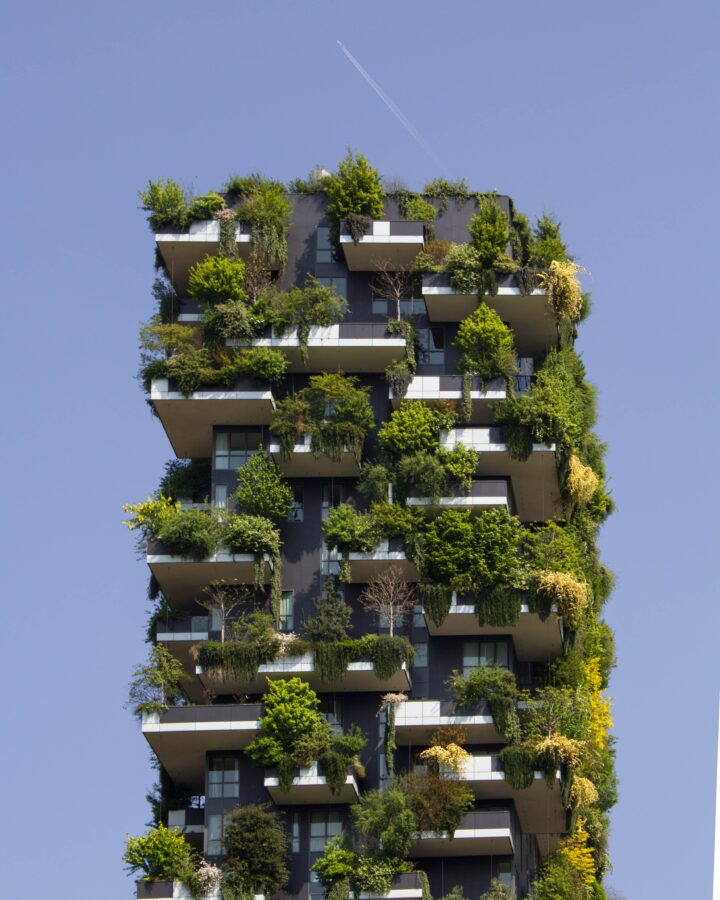 Sustainability in the hotel industry
COP26 and the urgency of the climate crisis have placed the importance of sustainability front and centre in every industry. As well as emphasising the need for businesses to reduce their carbon footprint in support of the conference's net zero goals, the heightened coverage of this global issue has led to guests becoming more discerning about their hotel's sustainability credentials. 
Booking.com's 2021 Sustainable Travel Report found that travellers are more committed to travelling sustainably than ever before, with 81% stating that they want to stay in sustainable accommodation in 2022. This highlights that not only are sustainable operational and design practices crucial to the environment, but they are key to meeting the needs of the customer too. A nod towards eco-friendliness may no longer be enough as some travellers now seek to ensure that their accommodation is aligned with their own beliefs around tackling climate change.
This has led to a trend towards more environmentally conscious design elements such as upcycled and restored furnishings, recycled materials and locally-sourced pieces that have a lower carbon footprint. "As designers, we're taking responsibility over the environmental impact of the pieces we incorporate in our interiors" says Kate. "By specifying FF&E from brands that are environmentally engaged, such as Hypnos, we can lower the overall impact of a project."
Hilton is one of the many hotel brands engaging with more sustainable design practices and they will be bringing three new eco-friendly properties to their portfolio in 2022. The Hotel Marcel New Haven will open as the first net zero hotel in America with rooftop solar panels and parking canopies that will power the hotel's electricity, heating, cooling and hot water systems.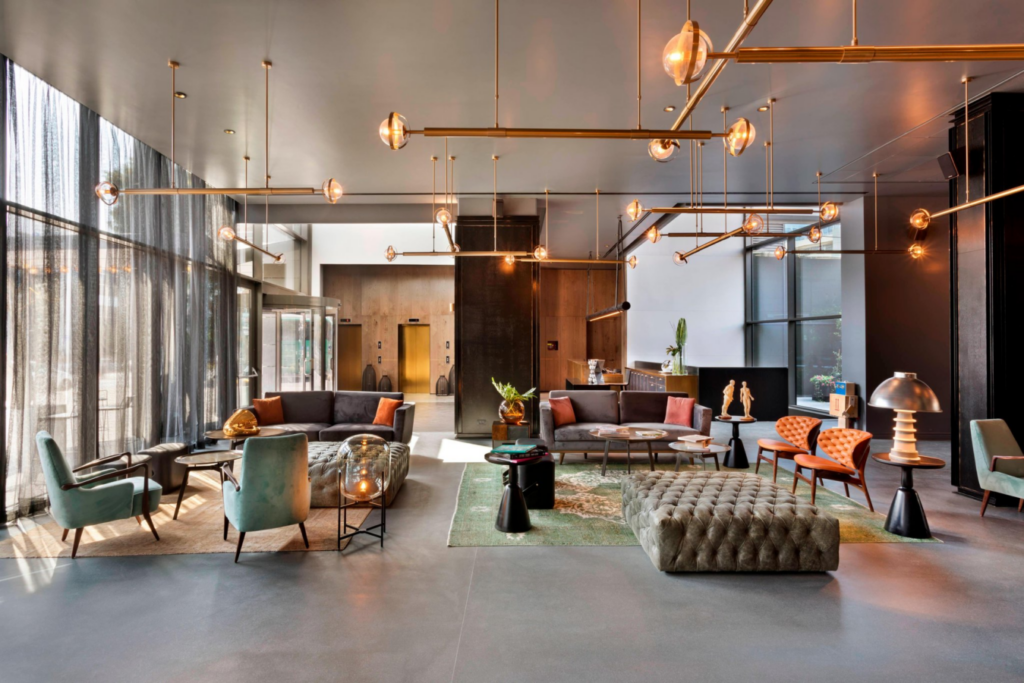 Hard-working spaces
Both the Covid-19 pandemic and the move towards sustainability are contributing to a trend for hard-working multifunctional spades. 2020 and 2021 saw our homes having to take on the roles of offices, gyms, leisure spaces and everything in between and this trend is migrating across to hotel interiors. The pandemic changed the way many people work which gave rise to the work from hotel trend, but now it's becoming clear that these working routines are here to stay and so many hotels are redesigning to fit these changing needs.
"Guest rooms are likely to become more flexible spaces in the coming year," predicts Kate. "As more people opt to travel while they work there will be an increased need for rooms that are as comfortable and convenient to work in as they are to rest in. From ensuring there are ample outlets and excellent WiFi facilities to creating areas that lend themselves to video calls without the guest's bed appearing in shot, these new considerations are giving rise to exciting new trends." 
Multifunction spaces are also closely linked to the importance of sustainability within hotel design and this is well demonstrated in Valo in Helsinki, Finland. Shortlisted in the Dezeen Sustainability Awards 2021, Valo is a truly dual-purpose building, combining a hotel and an office into one space. Not only does this allow guests a premium working environment during their stay but it avoids the wasted energy associated with office buildings and hotels being empty or only partially occupied for large portions of the day. By creating a highly flexible interior, Valo offers multipurpose spaces that can adapt for work, rest and play.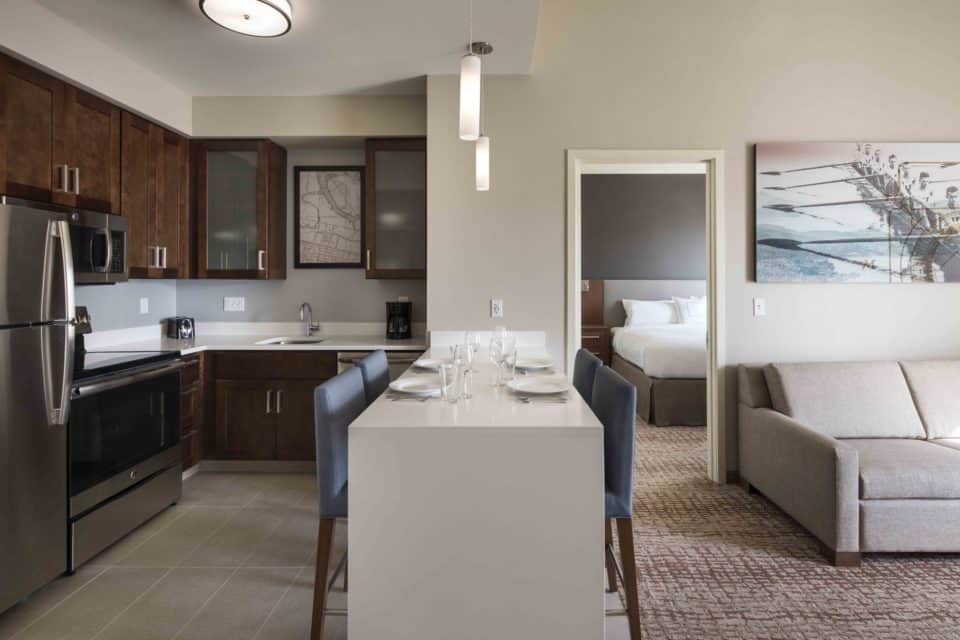 Embracing the changes
The Marriott International Headquarters in Downtown Bethesda, Maryland is due to be completed in March 2022. This $600m urban campus project is made up of a 22-storey headquarter building adjacent to a brand new 12-storey hotel and both properties have been created with a focus on the design principles discussed here. 
The headquarters is a modern workspace with a blend of individual workstations, offices and conference rooms to allow flexible working and open collaboration. Cutting-edge technology and contemporary amenities, including a childcare centre and fitness suite, have also been incorporated to improve employee wellbeing. In addition to the building's LEED gold standard rating, the location of this new urban campus has been carefully selected to enhance its sustainability credentials. Situated close to numerous public transportation options and with on-site bike storage, employees and visitors can easily travel to work in a more environmentally conscious way.
The Bethesda development has also tapped into the trend for enhanced outdoor spaces with its 13,000 square foot pedestrian plaza and tree-lined walkways. The new flagship Marriott hotel also offers outdoor dining areas within the plaza as well as a seasonal rooftop terrace. Internally, the hotel provides 8000 square feet of flexible working and entertainment space to create a multipurpose environment that will appeal to a larger variety of guests.
While many interior trends such as colour palettes, materials and furniture shapes change annually, 2022's hotel design trends are likely to endure. Despite easing pandemic restrictions, our learnings from the past two years will have long-term effects on the way hotels are designed and operated. Similarly, as an industry, we will continue to move towards improved sustainability in order to create hotels that are not only beautiful, but contribute to building a more positive future.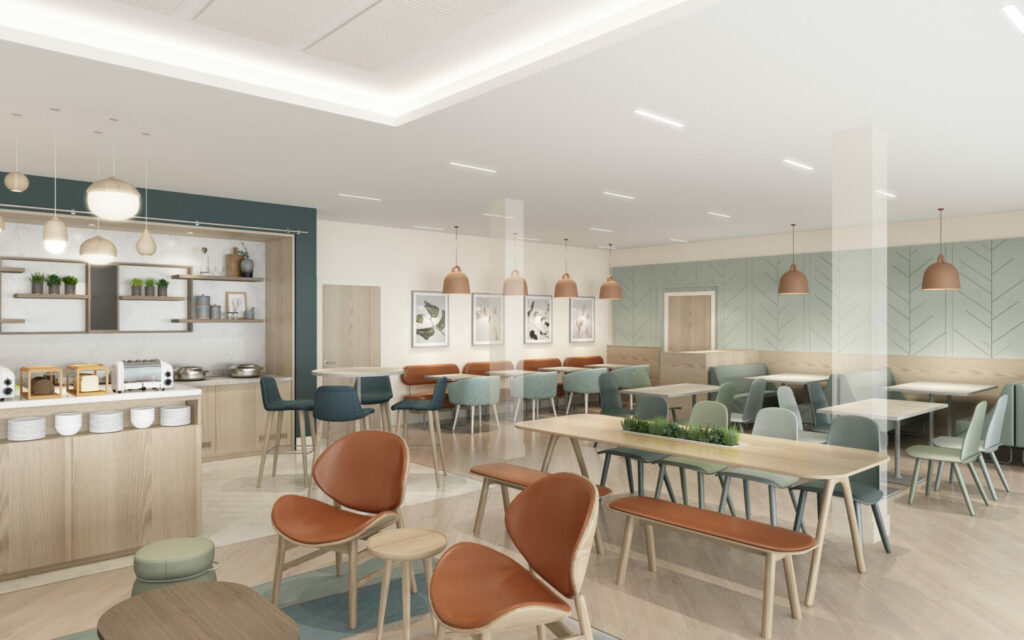 Let's talk about you…
If you're looking for some ideas or advice for your hotel property, we'd love to help. Contact the OCCA Design team and we can discuss your next steps and how we can help you take them.